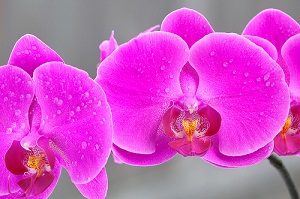 If you recently gave a Just Add Ice Orchid as a holiday, birthday, or just-because gift, make sure you let the recipient know about the helpful Orchid Care Videos available on our Just Add Ice Orchids website.
New Just Add Ice Orchid owners will be delighted with the beauty of their new Phalaenopsis orchid plant and touched by your thoughtfulness; but they may be a little nervous about taking care of their new Just Add Ice Orchid. You can put their mind at ease by telling them about our library of helpful Orchid Care Videos.
Orchids have a reputation for being high maintenance and difficult to grow. Some people even think of orchids as the "divas" of the plant world. While this may be true of some of the more delicate flowers and hybrids in the orchid family, it is not true of hearty Just Add Ice Orchids. America's favorite orchid, Phalaenopsis orchids, require little care, thrive in nearly any indoor environment, grow equally well in both natural and artificial light, and are incredibly easy to water. Just add three ice cubes to the orchid's pot once a week and you're done!
But these are things new Just Add Ice Orchid owners may have yet to learn. You might also encourage the gift recipient to sign up for our free weekly orchid watering reminders, a great way to help make sure they get off to a good start on caring for their new Just Add Ice Orchid.
Photo credit: jodycl