Find out what the consumers say!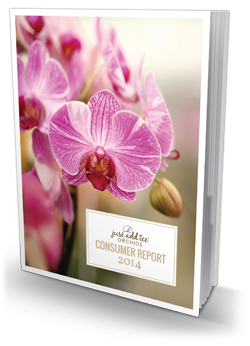 Each year, we ask our consumers to complete a brief consumer research survey. The results help us gain a better understanding of important demographic information and lifestyle preferences of our consumers.
This report includes consumer survey results and a 2014 Style Guide, brought to you exclusively from Just Add Ice® Orchids. Some highlights include:
Just Add Ice® Orchids appeal to a wide range of budgets
A majority of our consumers are repeat customers with multiple orchids
Birthdays are consistently the number one occasion to give an orchid
Social media plays a large role in decor inspiration and brand recognition
Nearly all consumers rate "simple care" as the most important factor for purchasing Just Add Ice® Orchids
Learn more in our Consumer Report. Simply fill out the form to receive your free copy!