Jewel-toned orchids can become part of colorful Christmas décor, by setting them in colored containers—from Victorian tins to a holly-painted tea pot. You can also placing brightly-colored metallic orb-shaped ornaments or other baubles and beads to bring out the color of the flowers and a holiday theme in a clear vase. You can use red and white round peppermint candies or ornaments that won't fit on the tree.

For snow-white blossoms, dress them up with some Spanish moss and a scatter of tiny apples to add Christmas colors, or add sparkle with shimmery silver ornaments that recall the glisten off of icicles.

Try adding yuletide contrast to red flowers by surrounding them with sprigs of pine, or you might follow this tip: place orchids in a 6-inch terra-cotta pot painted a glossy green in a Victorian-style cast-iron tree stand.
To add a glistening effect to offset red or white orchid blooms, fill the bottom of clear glass vases with a handful of clear marbles. You can also use red or green glass to bring the Christmas spirit vividly to life.

For an easy, inexpensive, and impressive host or hostess gift, wrap a pretty specimen in thin, easy-to-mold art paper, and then tie it off with a satin bow.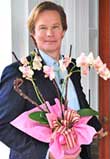 The Holidays with P. Allen Smith
See fun creative ideas for Holiday gifting with orchids with celebrity gardener P. Allen Smith. He offers easy ideas for creating an elegant holiday gift using long blooming orchids for that special someone on your list. Watch P. Allen Smith's video on gifting Just Add Ice orchids for the Holidays >>