Celebrating the holidays will be different this year, which means it's time to find new traditions and activities that bring you joy without all the additional family members and friends. This can also be a time to reflect on all the things you're grateful for — things we've admittedly taken for granted in the past.
What 2020 holiday trends are gaining popularity this year?
2020 holiday trends
Here are a few trends you can try following during this year's holiday. Maybe they'll even become new traditions.
Decorate earlier
Lots of people have already started decorating their homes for the holidays — and why not? A change of scenery never hurt anyone, especially if you're working from home. A few decor trends include incorporating more natural elements (pine garlands, pinecones, dried grasses), farmhouse neutrals (whitewashed wood pieces, flour sack wall art, buffalo check), and neutral colors in general (white, black, navy, natural wood tones).
Bake more
The holidays are known for their sugary treats, and lots of people are taking this time to try their hand at new recipes. If you bake more cookies than you anticipated, arrange a cookie swap with your friends, complete with a front door dropoff. Kick it up a notch by scheduling a Zoom call with your swaps and trying your cookies together.
Intimate gatherings
COVID pods (a group of people you exclusively share childcare, education responsibilities or social time with) are becoming more popular as Americans watch coronavirus cases rise. These intimate gatherings ensure proper social distancing and make contact tracing easier. Swap your holiday gifts during one of these gatherings, or leave your gifts on front porches. Place them under your Christmas tree and open them together on Zoom.
Add plants to your decor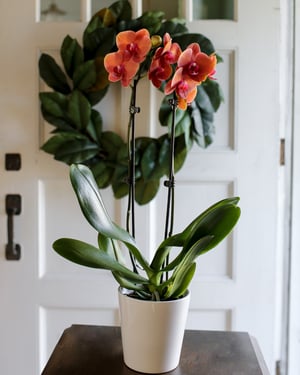 During quarantine, lots of people tried their hand (or thumbs) at becoming plant parents. We see you! Now it's time to work those plants into your holiday decor. Orchids add a touch of elegance to any display. Surround it with a fresh pine garland or a few pinecones, and you've got the perfect centerpiece.
For your other potted plants, consider placing mini ornaments in the pot (or hanging them on the plant if it will allow). Deck them out with lightweight tinsel or those amazing pinecones that smell like cinnamon.
Looking for a poinsettia alternative? Try an anthurium! Their bright red, heart-shaped leaves will last well into February and can double as Valentine's Day decor.
Stay home
Given the ongoing spread of COVID-19, many families are opting to just stay home this year. That means you can spend the whole day in your jammies — which comes in especially handy after eating all that good food.
Christmas light drives
Aching to get out of the house anyway? Search "Christmas light displays near me" on Google to find the best drive-by or drive-thru displays. You can even watch neighborhood groups on Facebook to see if an area near you is hosting their own light show.
Pack up some snacks and hot cocoa and hit the road! This could easily be a tradition you repeat year after year, and the creativity is sure to bring a smile to your whole family.
2020 holiday traditions worth sticking to
What holiday traditions do you want to start this year? No matter what this holiday season looks like for you, we hope it's merry and bright.