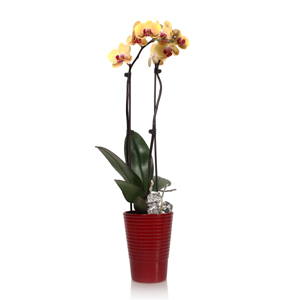 There is so much to love about a Phalaenopsis orchid. First of all, they're one of the most low-maintenance plants you'll find; and don't be fooled by their simple upkeep. Despite the ease of owning a Phal, it's still one strikingly beautiful flower.
If you've made the decision to purchase your first orchid, first of all, congratulations! Secondly, we'd like to offer you some tips on caring for that first plant so that your first foray into orchid ownership can be a delightful one.
Watering the Just Add Ice Way
The single most important thing to remember when caring for that first Phalaenopsis orchid is to give it just the right amount of water. It's easy for those new to owning orchids to go a little overboard when it comes to watering them. Our solution here at Just Add Ice Orchids is to water your Phal with three ice cubes once per week. The ice-cube watering method is a simple way to ensure that your orchid gets the perfect amount of water for healthy growth.
Here Comes the Sun
Orchids like sunlight just as much as the next plant. With that said, Phals prefer their sunlight to be indirect. One great way to offer your orchid the indirect sunlight it craves is to place it near a window with a sheer curtain. The curtain acts as a buffer, protecting your Phal from sunburn.
Choosing the Right Climate
Orchids were born in the tropics, with built-in warmth & humidity. Although not necessary for the orchid owner to fashion a rainforest out of the living room, giving your orchid adequate warmth and humidity is a must. Orchids like temps in between 65 and 80 degrees F in the daytime and 60 and 70 degrees F during the night. They like temperature stability so keep 'em away from open windows and air vents.
Orchids like their air moist, so remember to keep the humidity level in the room somewhere in between 55 and 75 percent. If you suspect your orchids aren't getting the right amount of humidity, bring in a humidifier to raise the level in the room where your orchid calls home.
You're now armed with just enough knowledge to give your first orchid a happy home. We'd like to add one more piece of advice before you begin: don't be too hard on yourself. Being a first-time plant owner isn't always easy. Give yourself a break if things aren't going exactly as planned. Let yourself get comfortable caring for your orchid without too much pressure. We like to think that a happy orchid owner equals a happy orchid!
Want more tips for the beginner orchid owner? Visit our FAQ section for additional orchid care info!