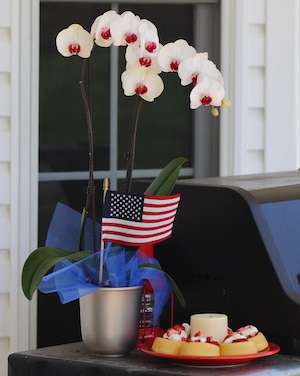 The warm, mild temperatures of spring have a funny way of getting us in the mood to celebrate. It's a good thing, too, because there are a number of holidays this season! We discuss three upcoming holidays and how you can include orchids in your festivities.
1. Memorial Day
Summer begins June 21st, but people take to their barbeques or swarm to the beaches starting Memorial Day weekend. Memorial Day, however, is not just for frolicking outdoors; it's a day that we honor the men and women who died to protect our freedom.
Celebrate these individuals and our great country with a floral arrangement of white orchids with red and blue accessories, such as glass beads. Add miniature flags on either side of the plant for a tasteful decoration. Remember to observe a moment of silence at 3 p.m.
2. Flag Day
Speaking of flags, in June we celebrate Flag Day. This holiday commemorates the adoption of the flag as one of the official symbols of our country. The week of June 14 is officially National Flag Week. You'll likely see many of your neighbors hanging a flag outside of their homes.
If you choose to hang a flag outside, why not accentuate it with orchids? Orchids can be placed outside in day temperatures between 65 and 75 degrees Fahrenheit. Keep your orchids on your porch or under an awning to shield them from direct sunlight. For a patriotic display that still ties in the season, place your orchids in a watering can or rain boots.
3. Father's Day
Who says mom is the only parent who'd appreciate receiving beautiful flowers? June 15 is Father's Day, and we're willing to bet dear old Dad would appreciate an orchid much more so than another tie.
If your dad is a stranger to the botanical world, even better! Orchids are a low maintenance, no fuss plant he can easily care for. Point him to our Orchid Care Resources for helpful care tips.
Want to be even more creative with your orchid holiday decorations? Personalize your plant with tips from this guide.