Lilies are the traditional Easter flower, but nothing about these last two Easters has been traditional… so why not turn it up a notch? Orchids feature a delicate beauty and longevity unrivaled by other holiday plants. Plus, they rebloom again and again with proper care.
4 ways to use orchids this Easter
Here are a few ways to work orchids into your Easter decor.
Hostess gifts
If you plan to visit friends or relatives on Easter, choose a premium orchid as a hostess gift. A variety of colors makes it easy to pick one that matches their decor. Easy care (just three ice cubes once a week) means even hostesses with little plant-care knowledge can keep this beauty alive.
Basket fillers
Mini orchids are the perfect addition to any Easter basket. The smallest orchid in our portfolio, they stand between 6 to 10 inches tall and require less water than our premium orchids. If you have several baskets to fill, our Flower Shop in a Box contains 12 or 20 mini orchids in two colors.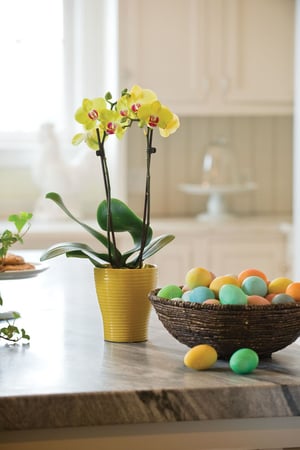 Easter decor

Pastel orchids are a match for spring and Easter decor. A tall green, blue or pink watercolor orchid will stand out among the bunnies and eggs already on your mantel. The best part?
You don't have to put orchids away with your other holiday decor.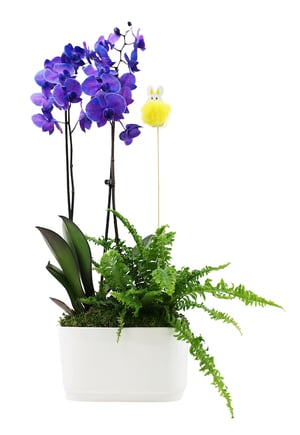 Centerpieces
If family is gathering around your table, create a stunning orchid centerpiece. Consider surrounding your orchid with decorated eggs, Peeps or smaller pots of candy.
You can even stuff little chicks or bunnies in your orchid pot, just be careful not to disrupt any roots or leaves.
If you're looking for more greenery in your Easter display, shop our Easter collection to find a stunning orchid duo or an orchid-fern duo.
Orchid Easter displays
No matter how you work orchids into your Easter decor, they're guaranteed to bring you and your guests a smile. As spring moves into summer, your orchid will transition with the seasons (and decor) too! Be sure to follow these summer care tips to ensure your orchid is still thriving next Easter.