Can you feel it? That subtle change in the air? As summer starts to wind down and the first crisp signs of fall begin to show themselves, it's time to embrace a new season. And with a new season also comes one very important shift: your home décor.
To really ring in the season, you'll need a few fall home décor essentials to bring your home out of the sunglasses-and-sunscreen-phase and into the pumpkin-and-cider phase. Here are seven of the top fall home décor essentials.
A Fall-Themed Centerpiece
Showcasing your fall spirit in the center of your table is a great place to start decorating for the season. You can find fake gourds, pumpkins and cornucopias at any craft store, just waiting to be filled with fall-colored flowers. Or, consider arranging your gourds with candles, pinecones or artificial greenery. The possibilities are endless.
Pumpkins and Gourds Everywhere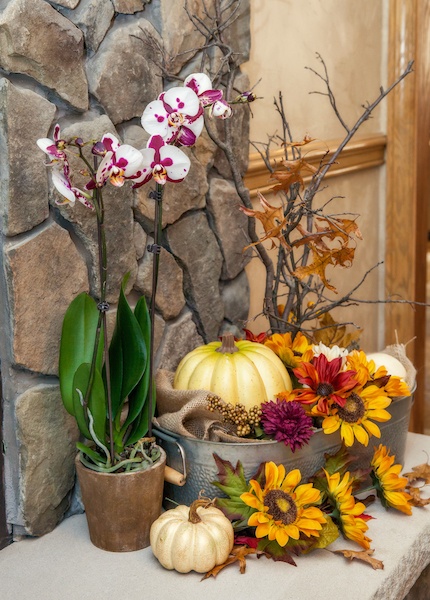 Why stop at just your centerpiece? Don't be afraid to let mini pumpkins and colorful gourds work into other areas of your home. Whether you fill a hurricane vase for your front entrance table or line up fresh pumpkins on your front porch, nothing proclaims, "it's fall!" more.
Dried Cornhusks and Straw Bales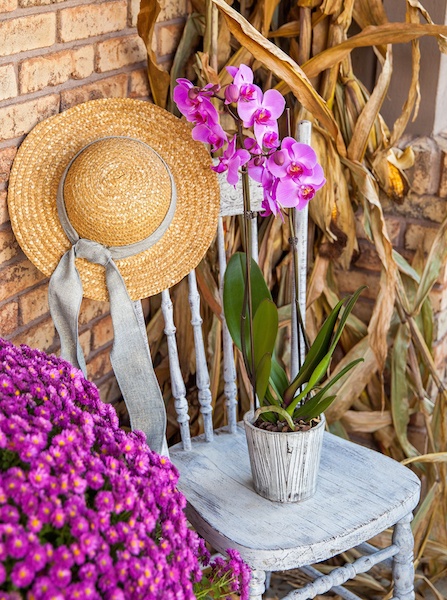 Second to pumpkins and gourds, dried cornhusks and bales of straw are the next most popular natural fall décor items. Draping a bale of straw with a plaid blanket and putting it on your porch can give your front stoop a festive appeal. Similarly, you can fill a vase with dried cornhusks and wheat stalks to decorate a side table. Using natural home décor is trendy and inexpensive, so don't be afraid to get creative.
A Seasonal Mantle Sign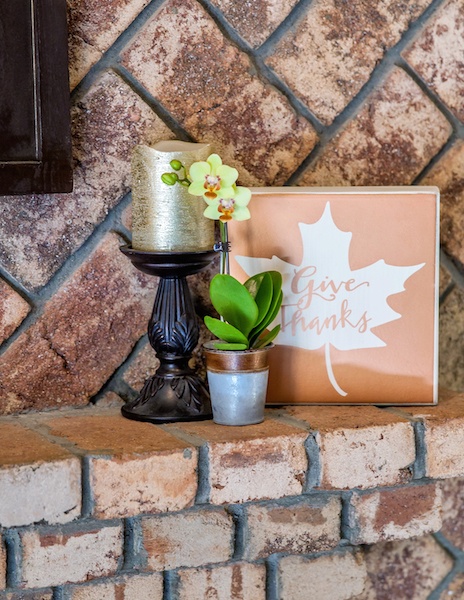 Your living room mantle is the hearthstone of your home. By topping it with a fall-inspired sign, you can create a space that embodies the cozy feelings of a new school year or Thanksgiving holiday. While you can easily find seasonal mantle signs for purchase, you may want to consider making your own for a more personal touch. Phrases like "Give Thanks," "Gather," "Colder Days, Warmer Heart" or "Happy Fall, Y'all!" can really help your home feel festive.
A Festive Front Porch Rocking Chair
Now that the days are getting cooler, you and your family may want to spend more time on your front porch enjoying the weather and the mild fall evenings. To fully embrace the fall spirit, decorate your front porch rocking chairs with festive fall pillows or surround them with pumpkins of varying sizes.
A Decorative Chalkboard
A decorative chalkboard not only looks nice; it can also be customized with your favorite fall saying or a clever drawing. Feel free to change it up with your mood or with the seasons. For instance, you can make a Halloween-themed display in October and a Thanksgiving-themed drawing for November.
A Wreath Made of Twigs and Autumn Leaves
Your front door is the first impression visitors get of your home. A wreath is the perfect way to make sure your front door is welcoming and full of fall spirit. While you can easily find fall wreaths in stores, you might want to consider making your own. Check out this link for DIY wreath tips and ideas.
Need more ideas to get your home ready for fall? Download our free Fall Home Décor Guide and let your creativity flow.