Taking down summer decor can feel like a dark ending to the season, but decorating your home for fall can be just as cheery (and it's definitely cozier!).
To really ring in the season, you'll need a few fall home decor essentials to bring you out of the sunglasses-and-sunscreen-phase and into the pumpkin-and-cider phase. The good news is that most of this decor can be added to your holiday lineup, too!
Here are four of the top fall home decor essentials.
A fall-themed centerpiece
Showcasing your fall spirit in the center of your table is a great place to start decorating for the season. You can find fake gourds, pumpkins and cornucopias at any craft store, just waiting to be filled with fall-colored flowers. Consider arranging your gourds with candles, pine cones and real or artificial greenery. The possibilities are endless.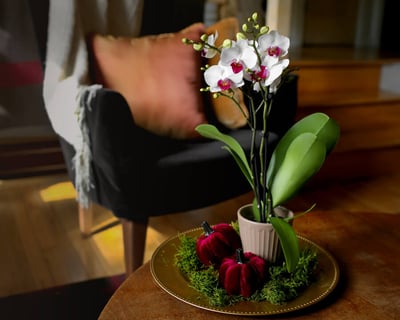 Painted pumpkins
Why stop at just your centerpiece? Pumpkins are still widely available at nurseries and greenhouses. Don't be afraid to let mini pumpkins and colorful gourds work into other areas of your home. Painting your pumpkins gives you more creative freedom when it comes to the decorations you already have. Use them as a pop of color or let classic orange pumpkins shine all season.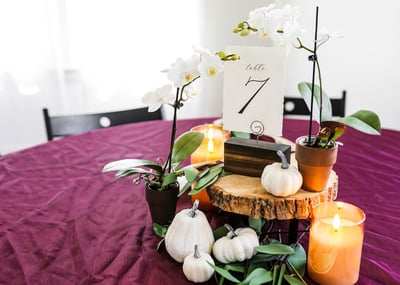 Greenery and garlands
Arrange your orchids or indoor plants as you see fit and run a fall-colored garland in between the plants. Add a natural element by taking the decorative pot off your orchids and leaving the roots exposed in the grow pot. You can also add other natural elements to your garlands, such as pine cones, pine needles, acorns, sticks and more.
Eucalyptus runners
For a softer feel, use eucalyptus branches as a garland or table runners. They add a natural hue to your room, plus they smell great and will even work with any holiday decor through the rest of the year.
Fall decor that brings you joy
Shop the Fall Collection to find crisp red anthuriums, cozy coral orchids and dramatic purple orchids to add to your decor. No matter which plant you choose, it will bring you joy for months to come.