Halloween is just around the corner and although orchids aren't necessarily the first thing that come to mind, a love of Halloween and a love of orchids don't have to be mutually exclusive. Orchids can actually be a perfect accent or centerpiece in your Halloween décor. Whether you're looking to add a bit more spookiness to your décor, or you'd prefer it to be one-of-a-kind, orchids are the way to go.
3 ways to add orchids to your Halloween décor
1. Choose a festive color. Orchids come in a variety of colors, some of which are ideal candidates to add just the right amount of eeriness and whimsy to any Halloween party or festive household décor. Some of the most Halloween-esque orchid colors include orange and purple Watercolor Orchids (both come in spiderweb pots and include matching tulle). You could also try green and blue.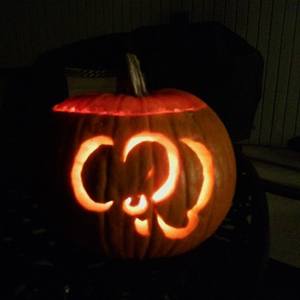 2. Carve an orchid pumpkin. Pleasantly surprise all of your tricker-treaters this Halloween with a pumpkin that's slightly unexpected. Instead of all of those pumpkins we see each year with carvings of spooky jack-o-lantern faces, why not try something different? Incorporate your love of orchids into your pumpkin-carving routine by featuring pumpkins carved like beautiful orchids.
3. Add a fake spider, cobwebs or gravestones. We normally don't speak too fondly of pests crawling all over your orchids, but we'll make an exception for Halloween. Pests are just fine with us, as long as they're fake. Make the orchids you already have fit in with your spooky décor by adorning them with plastic spiders and cotton spider webs. Our Halloween Collection pots include spiders! You can also make gravestones out of cardboard, glue them to a toothpick and stick them in pot.
These are just a few of our ideas, but we encourage all of the orchid lovers out there to be creative. Take our ideas and add a few of your own! Not only will you have a blast decorating, but you'll likely have some of the most unique Halloween decorations on your block. Have a safe and happy Halloween!