Happy National Indoor Plant Week! Typically celebrated in the third week of September, National Indoor Plant Week aims to promote and increase public awareness of the importance of plants in indoor spaces.
There are many benefits to building up your indoor houseplant collection, including air purification, stress reduction and increased happiness, to name a few.
We're celebrating Indoor Plant Week all month by offering 25% off our planters using the code PLANTS25 at checkout (offer not valid on previous purchases).
Indoor plant spotlight
We'd like to highlight three of our favorite indoor plants this week in the hopes that they'll inspire you to create your very own indoor plant oasis.
Phalaenopsis orchids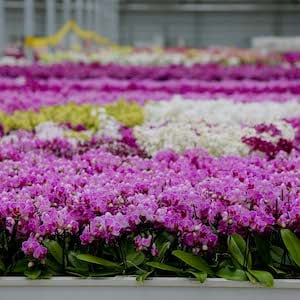 Phalaenopsis orchids are sometimes referred to as "moth" orchids. The word "Phalaenopsis" comes from the Latin word "phal," which translates to "moth." Carl Ludwig Blume, who gave Phalaenopsis orchids their name, supposedly chose it due to the moth resemblance.
Phalaenopsis orchids are great for first-time plant parents. They're low-maintenance, have long-lasting blooms, don't require tons of light, and they add a brilliant pop of color to any room. When properly maintained, orchids will continue to rebloom for years to come.
Here are more fun orchid facts.
Anthuriums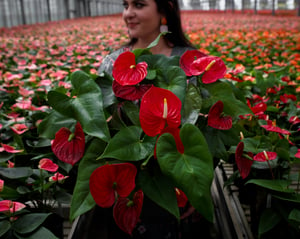 Anthuriums, also known as flamingo flowers, have more than 1,000 different species. The word "anthurium" is Greek for tail flower, due to their unique leaf and spadix shape.
Another great choice for novice plant owners, anthuriums are low-maintenance and they rebloom all year. Their heart-shaped leaves symbolize hospitality, making them a great gift for party hosts.
Find more anthurium facts here.
Money Tree Plant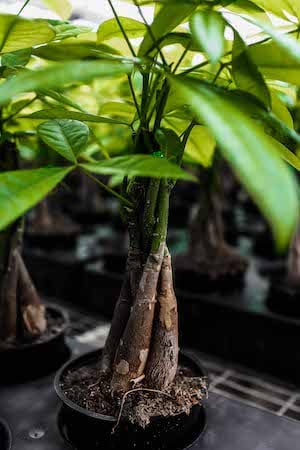 Known for their unique braided trunks, money tree plants are thought to bring good luck and prosperity to their owners. According to lore, a man prayed for money and became rich after growing several trees from one original tree, giving the money tree plant its name.
Practitioners of feng shui credit the money tree plant with creating positive energy in living spaces, making it the perfect addition to a home office or family room. Another low-maintenance plant, the money tree will continue to grow all year long, and some have been known to reach a height of 6 feet.
Get more money tree plant facts here.
Start Your Indoor Plant Collection Today
Indoor Plant Week is the perfect time to build up your houseplant arsenal. Have fun creating different looks and decorating with them in every room. It's also a great time to send an indoor plant to a loved one who may be working from home more often! Just think of the smile a fresh plant will bring to their face.
Shop our planters and get 25% off through September using the code PLANTS25 at checkout.