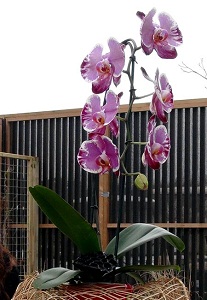 A gorgeous new hybrid of Phalaenopsis orchid was recently presented to Queen Beatrix of the Netherlands at the Floriade 2012 horticultural exhibition in Venlo, The Netherlands. Presented to the Queen by the people of Taiwan, the exquisite new moth orchid has lavender petals edged with white and marked with dark, reddish striations on one lobe that reflect the deep red that edges the orchid's lip and throat. In addition to its unusual coloration and markings, the new orchid has elongated petals that sweep upward like wings, as well as an elongated lip that curves up and out from the orchid's throat.
Commemorating its participation in the premier international horticultural exposition, which will continue through October 7, 2012, Taiwan named its new Phalaenopsis hybrid "Happy Venlo" after the Netherlands' town hosting the Floriade exhibition. Taiwan plans to register the name of the new Phalaenopsis orchid with the Royal Horticultural Society in the United Kingdom.
The Royal Horticultural Society
Founded in 1804, the Royal Horticultural Society is one of the world's oldest and most respected horticultural organizations. Since the International Registration Authorities for plants were established in 1955, the Royal Society has served as registrar for several groups of cultivated plants, including orchids, lilies, rhododendron, daffodils, dahlias and delphiniums. The Royal Society also publishes The International Orchid Register, the world's central listing of all orchid hybrids.
Other Orchids for Royalty
This isn't the first time Taiwanese orchid growers have presented a new orchid species to royalty. In 2011, the small Southeast Asian country presented Doritaenopsis Elizabeth II to Queen Elizabeth of the United Kingdom at the 2011 Chelsea Flower Show in London.
Photo credit: Want China Times