"Love my orchid and they even send me an email to remind me to put the ice on it the same day each week! Very helpful or I would forget. Have a lot of information and videos you can go online and look at also to help with growing and maintaining your orchid!" - Betty H.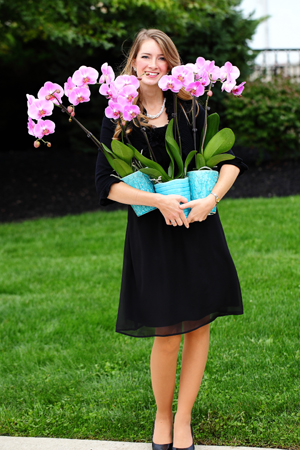 "I love Orchids...they give me a sense of calm and balance in my home...I don't have much luck with upkeep but enjoy them when they are in full bloom...I also like to buy the orchids that are placed in a vase which look so elegant! If you could give me tips on how to care for them maybe I would like to take up the hobby!... Thanks for a great site!" - Leticia A.
"I used to grow orchids on a farm in Hilo, Hawaii. I now live in Minnesota and have recently found your orchids at a local Cub store. I LOVE THEM!! They are so healthy looking and so full of buds." - Lynn N.
"My orchid experience has been wonderful. Among all of the flowering plants I have in my home, they are indeed my favorite. I love the surprise I receive when I walk into a room and see that one has flowered because you never know when they will or if they will but when they do - My! My! My!" - Debra M.
"I came home after an exhausting week of work. I opened my door and there it was! A beautiful orchid with bright purple/pink blooms. It immediately brightened my day! My sister had it sent to my home as a gift saying that when she saw it, she thought of me. I love plants and have been enjoying the beauty that the orchid brings to my home decor." - Sarah A.
"I thought it was complicated growing orchids. Just Add Ice Orchids makes it simple and easy. Thank you!" - Gloria B.
Connect with us on Facebook or Twitter and share your orchid experience!