Elegant and showy, Phalaenopsis orchids make lovely corsages. These large, curvaceous orchids are a top corsage choice for weddings, proms and other special occasions. Phalaenopsis orchid corsages are easy to make. You can make a professional-looking corsage in just a few minutes by following the directions below.
Phalaenopsis Orchid Corsage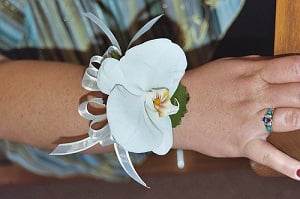 You will need:
1 Phalaenopsis orchid bloom
Green floral tape
Thin, green florist's wire
Thin, white or colored ribbon
Scissors
Glass or ceramic bowl or pan
Directions:
Select a fully mature bloom of exceptional quality and color.
The night before you plan to make the corsage, trim the orchid bloom from the stalk, leaving a small stem.
Float blossom, stem down, in a bowl of water overnight to hydrate the flower so it lasts longer. This will also make the flower stiff and easier to work with.
Cut a 6-inch length of wire and wrap it with green floral tape.
Bend the wire in half to create an open but narrow loop at one end (like a bobby pin).
Position the wire pin at the base of the dorsal sepal (the top center sepal) and push it through to the orchid's back. You want to ensnare the sepal's base in the wire loop without piercing the petal. (Click here to review orchid anatomy on our website.)
Holding the orchid's stem (peduncle) against one end of the wire, carefully wrap with the other wire end to form a single "stem."
Wrap the new "stem" with floral tape.
Add a ribbon bow and your corsage is ready to wear or give as a gift.
For more ways to decorate with orchids, visit our Project Video Gallery.
Photo:
Details of the Day