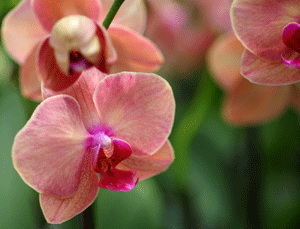 Reminiscent of the heady days when orchid hunters crisscrossed the globe, penetrating deep into tropical jungles in search of rare orchids to bring back to European buyers, thousands of orchid enthusiasts descend on Ontario, Canada, each summer to search for rare wild orchid species. At the annual Bruce Peninsula National Park Orchid Festival, it is the thrill of the hunt and the victory of discovery that fuel excitement as orchid lovers fan out over an unusual geological formation known as "The Bruce" to hunt for and (if they are fortunate enough) photograph some of the world's rarest wild orchid species.
Wild Ohio Orchids
Wild orchids are not unusual. Indigenous orchid species can be found in most corners of the world, including Ohio. Ohio's Cranberry Bog is home to several rare plant species, including two types of orchids: Calopogon and Pogonia ophioglossoides, commonly known as the snakemouth orchid. In a few unique environments scattered around the world, wild orchids grow in almost unimaginable profusion. The bleak stone plateau of the Burren in Ireland is one such place and The Bruce in Canada is another.
Orchid Adventure
Located north of Toronto, The Bruce is an unusual limestone formation on which impenetrable ancient forests have created a unique environment that is home to 44 wild orchid species, many of them extremely rare or endangered. It is to this strange landscape that orchid aficionado Rick Koval and a friend ventured in search of rare wild orchids. His fascinating chronicle of his trip for the Pocono Record makes enjoyable reading and imparts the excitement that early orchid hunters must have felt when they came upon a new find.
If you can't scour the world for wild orchids, be sure to check out our photo gallery to see photos of our beautiful orchids.