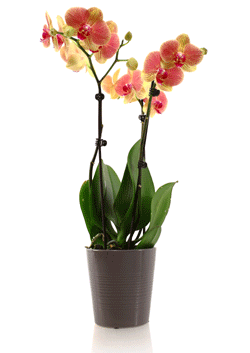 If you have never grown orchids before but would like to do so, it is a good idea to start with phalaenopsis orchids. Also known as moth orchid, phalaenopsis orchid is one of the easiest types of orchid to grow, and therefore, it is often called the beginner's orchid. Here are some reasons why this orchid is a suitable option for beginner growers:
Easily Available
Phalaenopsis orchids are not only standards in most flower shops; they can also be found in big box stores such as Wal-Mart and Home Depot on a regular basis. They are so popular that they are available in most grocery stores as well.
Easy to Grow and Maintain
Phalaenopsis orchids are one of the hardiest species of orchids, and they require less effort to grow and maintain than most other orchids. They make excellent houseplants because they thrive under the same temperature as human beings do. They are low light orchids, and they can grow easily on a windowsill, with little or no direct sunlight. Also, Phalaenopsis orchids are relatively pest-free, and they can be grown with more than one cultivation method. If you can grow African violets successfully, you should not have any problem with Phals.
Provides Year-Round Exotic Beauty
Phalaenopsis orchids are beautiful plants that can add a touch of exoticness to any space in your home. Since they are not so large, they do not take up a lot of space. They are also tidier than many other orchids. Phals flower sequentially over a few months, and their individual flowers can last two to three months. If they are properly cared for, they can continue to bloom for many years.
Just Add Ice Orchids are superior quality Phalaenopsis orchids that are grown using the most advanced and environmentally-friendly production methods. They are available in many supermarkets and home improvement stores across the country. Use our store locator to find a JAI Orchids retailer near you.