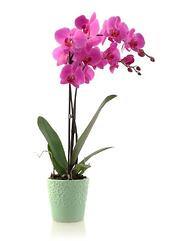 Another key to Phalaenopsis orchid plant health and pest control, along with insecticidal soap, is horticultural oil. These (generally non-petroleum) oils work much like insecticidal soap does: the fatty, waxy buildup blocks the ability of insects to breathe. The benefit to using them is that they are natural, easy to use, and cause little problems with the plant itself—particularly since horticultural oils are not poisonous to plants—or those nearby, as well as being safe for children and pets. Even friendly insects are safe in many cases!
What to Look For in Horticultural Oils
For your Phalaenopsis orchid, you will want to find a fine (or light) horticultural oil to help you get rid of orchid enemies like spider mites, scale, thrips, mealy bugs or aphids. Too heavy an oil, or impure oils mixed with sulfur or a strong insecticide may cause damage. You also won't want to use oils for plants that are stressed by drought or high heat.
Neem Oil
Neem oil is often used by botanists. It comes from the Margosa tree found mostly in India, where it has been used as an insect repellent and for pest control for centuries. Non-toxic to humans, animals and beneficial insects, it is a good choice for indoor plants. Mix with water and spray from a bottle, reapplying with a fresh batch every few days. Your mixture will break down after about eight hours, so you don't want to mix too large a batch at once.
Another natural oil is Orange Oil. It smells nice and fresh, and if you can't find it on its own to mix into your own winning combination. It is sold commercially as Orange Guard.
If you're interested in learning more about ways to protect your orchid, check out some of our other related blog posts.