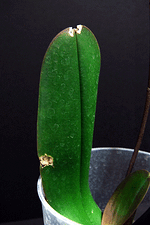 Despite their delicate appearance, Phalaenopsis orchids are actually fairly resistant to pest infestations. That being said, it is still important to inspect your Phalaenopsis orchid on a regular basis to check for any problems so they can be nipped in the bud…so to speak!
Phalaenopsis orchids are not only loved by humans, they are also loved by sap feeding insects, spider mites, and some pests that like to chew on orchids. While not usually found inside of a home, slugs, snails, caterpillars, and grasshoppers find orchids to be a tasty treat.
Cockroaches love orchids, too…
Indoor orchids may fall prey to an insect that most people would not associate with the delicate looking plant. Cockroaches will damage orchids significantly by eating flowers, roots, and any new growths of the orchid. The only way to keep cockroaches from eating orchids is to eliminate cockroaches from the home altogether. Pesticides used to eliminate cockroaches should never be used on an orchid, as they are toxic and would cause damage or death to the orchid. Instead, it is recommended that cockroach baiting stations and natural pest control measures be taken by hiring a pest control professional.
Phalaenopsis orchids must be delicious, because mice have been known to attack the long necked beauties as well. Orchid growers have been shocked to find their lovely orchids mowed to the ground by the sharp teeth of the house mouse. Even the typical house cat has been known to nibble on orchids. While it's never a good idea for your cat to chew on orchids, Phalaenopsis orchids are non-toxic to both cats and dogs.