It's easy to remember to water Just Add Ice Orchids when they're in full bloom. At peak bloom, the curving stem of a Phalaenopsis orchid is lined with huge, colorful blossoms. As soon as you walk into a room, Just Add Ice Orchids draw the eye and bring a smile to your face. Such constant attention makes it hard to forget that your orchid needs a little tender loving care – and 3 ice cubes -- once a week.
But when the flowers on your orchid fade and drop off and your plant enters dormancy, all you have left is a pot of droopy green leaves. Without its eye-catching blooms to capture your attention, watering orchids can be easy to overlook. But your Just Add Ice Orchid still needs to be watered with 3 ice cubes once a week. If you relocate your orchid to a less conspicuous display space during dormancy, it can be even harder to remember that your orchid still needs a little care even when it's not in bloom.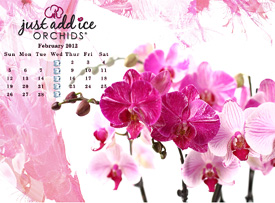 Just Add Ice Orchids' free watering orchid reminders can help keep you on track and make sure that your orchid stays healthy all year round. Watering orchids has never been easier. Just Add Ice Orchids offers two helpful orchid watering reminder aids:
Orchid owners can subscribe to our free email reminders from our website. Just choose the day you want to water your Just Add Ice Orchid and we'll send you an email reminder once a week.
Visit our website each month and download our

free desktop calendar wallpaper.

Choose your watering day before downloading and that day will be highlighted on the calendar.
You can also choose to get free text message reminders.

To receive text message reminders, text ORCHID to 84700.
Many Just Add Ice Orchid lovers do both, downloading our monthly wallpaper simply to enjoy the exquisite photos of Just Add Ice Orchids. And you can see the results of a recent study by researchers at The Ohio State University and the University of Georgia on the effectiveness of watering orchids with ice by clicking on the link below.