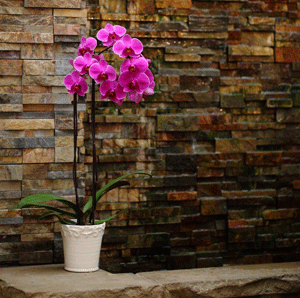 Whether you're new to orchids or are a seasoned fan, you already realize the benefits these remarkable flowers bring to the home or workplace. The orchid's beauty and resilience make them favorites for gift-giving as well as personal use.
And whether you grow your own orchids or find them at your favorite home improvement store or supermarket, you have a major resource in your corner – Just Add Ice Orchids.
A green perspective
Based in Ohio, Just Add Ice is a brand of Green Circle Growers, one of the Midwest's largest greenhouses, to supply its plants.
The orchids are grown according to environmentally friendly practices, using recycled water from retention ponds that collect rainwater around the facilities.
Wood boilers, fueled by refuse from local tree removal companies, are used to help eliminate the dependence on natural gas and reduce emissions—providing a sustainable heating source for 100% of the facility.
Even the orchid containers are eco-friendly, made from recycled and recyclable materials.
The result: fresh, healthy plants delivered to well-known retailers nationwide.
Fostering healthy orchids and happy owners
Reaching out to a national and international audience, Just Add Ice provides plenty of opportunities to learn more about orchids and connect with others who share your enthusiasm.
Find your own Just Add Ice Orchid
Check out our store locator to find your own beautiful, healthy Just Add Ice Orchid.