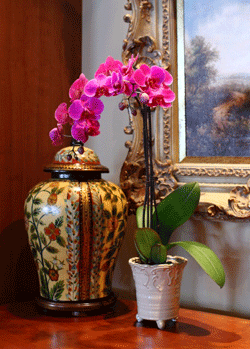 As Phalaenopsis orchid lovers, we have a lot to gain from joining a Phalaenopsis society or organization. We can meet with fellow enthusiasts and share our knowledge and experiences, as well as take part in Phalaenopsis-related activities and events that can inspire greater appreciation for our favorite orchid. One of the organizations that are dedicated to the enjoyment of Phalaenopsis orchids is the International Phalaenopsis Alliance.
The International Phalaenopsis Alliance, or IPA, was established in 1990 to cater to the needs of Phalaenopsis orchid enthusiasts. It supports the appreciation, preservation, and cultivation of Phals through a wide range of efforts. It organizes a symposium every year in different locations around the world to give enthusiasts the opportunity to learn from expert Phalaenopsis orchid growers and hybridizers. It also publishes a quarterly magazine called Phalaenopsis Journal, which features stunning photographs of Phals and articles on cultural techniques, breeding, and other areas of interest.
Additionally, IPA maintains an online email forum called PHALS Digest to enable its members to share information and tips on orchid growing, as well as a business directory of its members. The organization is also active in supporting the conservation and exhibition of Phalaenopsis orchids. It provides financial assistance to the Atlanta Botanical Gardens to support the maintenance of its Phalaenopsis collection.
It is easy to become a member of the IPA. Just go to its official website and fill out a simple form. The costs of membership range from $5.00 to $115.00 per year, depending on the type and duration of membership.
If you need advice on how to care for your Phalaenopsis orchids, download our 10 Simple Steps to Keeping your Orchid Healthy guide or visit our Forum page.