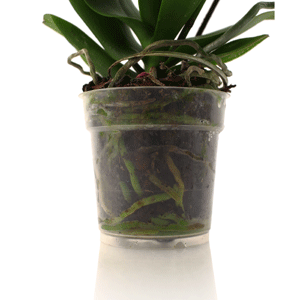 Root rot is a disease that Phalaenopsis orchids succumb to when they have been subjected to too much water.Sometimes orchids are purchased that are already suffering from root rot, but the signs of the disease are subtle. Because root rot is the most common disease with orchids, it is important for orchid owners to know the signs so that the disease can be stopped quickly.
What are the signs of root rot?
Buds that drop from a Phalaenopsis orchid for no apparent reason.
Listless or floppy leaves.
The lack of blooms after purchasing an orchid.
Phalaenopsis orchid leaves should feel strong and tough. If they feel withered or soft, you should suspect root rot.
Exposed roots that are withered or brittle instead of plump and active.
Phalaenopsis orchids that are planted in normal potting soil are more susceptible to root rot.
Black, squishy roots are an absolute sign of root rot for the Phalaenopsis orchid.
If the orchid is in the wrong potting media, then repotting it using proper orchid material is crucial.
Never let orchids sit in water.
When watering a Phalaenopsis orchid, let the water drain entirely through the orchid container. The amount of water used is not the problem, but watering too frequently will cause root rot.
Just Add Ice has the perfect solution for watering Phalaenopsis orchids. All you need is three ice cubes for your orchid once a week for proper watering. We offer a free desktop watering calendar that can be personalized for your watering schedule, as well as free text and email reminders, so that you will never forget to water your Phalaenopsis orchid.