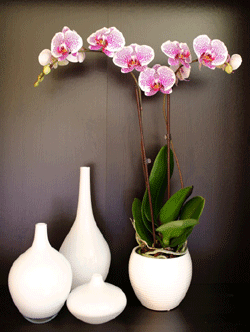 That pretty plant currently adorning your home or office has some famous—or at least famously named —cousins out in the world. Orchid growers are fond of naming new species and hybrids after public figures. And at least one celebrity, actor Raymond Burr, became an expert on orchids.
The Softer Side of "Ironside"

Though known for his tough-guy TV roles like "Perry Mason" and "Ironside," Burr had a soft spot for orchids. According to a 1988 Los Angeles Times article, the actor developed about 3,000 species—he named one the Barbara Hale Orchid after his "Perry Mason" co-star.
Toward the end of his life, Burr donated thousands of plants to Cal Poly Pomona's horticultural department. "I'm glad I chose acting over any other profession," Burr told the newspaper. "I don't know any doctors or lawyers or ministers who would give [away] an orchid collection."
Burr also ran his own extensive orchid garden, called The Garden of the Sleeping Giant, at the foothills of the Nausori Highlands in Fiji, and the Raymond Burr Vineyards in Healdsburg, California, also houses many of his plants.
A Blooming Who's Who

Orchids have been dubbed with a variety of celebrity names over the years. A few of the more recent varieties include:
Dendrobium Memoria Princess Diana: The Princess of Wales never lived to see the orchid named for her, but in 2012 the recently married royals Prince William and Catherine, Duchess of Cambridge, viewed the species in Singapore.
Laelia Gouldiana Greta Garbo: This vibrant lavender orchid was also from Raymond Burr's collection. He must have been a fan!
Spathoglottis Jane Goodall: The renowned naturalist and wildlife advocate got an orchid named for her.
Does your orchid have a name? Share it with us in the comments section below. Or consider personalizing your orchid with these easy and fun to do projects that make your plant special in our special download on "5 New Ways to Personalize Your Orchid".