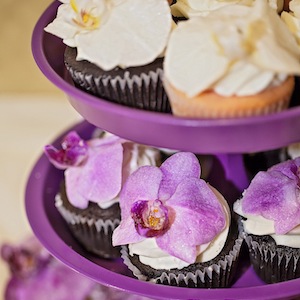 Your wedding day is one of the most joyous occasions of your life, one that you and your guests will always remember. And while roses are the traditional go-to flower for weddings, orchids' beauty, strength and versatility allow you to create a tasteful celebration sure to create a lasting impression. Here, we discuss four unconventional ways you can incorporate this beautiful flower into your wedding:
Adorned Chairs
A lot of thought goes into the flower arrangement for the guests' tables, but the surrounding chairs are often neglected. Try hanging orchids on the back of your guests' chairs. You can even add a bit of lace for a playful and romantic accent to your decor.
Floating Candle Centerpieces
A centerpiece is an integral part of your wedding decoration. It should impart elegance and beauty and add to the overall ambience. Designing a centerpiece that doubles as a floating candle is an ingenious and beautiful way to create a focal point guests will admire.
Cupcake Toppers
We know you can add orchid flowers (real or fondant) to a wedding cake for a charming, dazzling effect, but what about brides who opt for the less traditional cupcakes? Cupcakes, too, can don beautiful orchids, adding a touch of the tropics to your confections.
Thank You Cards
When the celebration ends, don't simply throw your flowers away! Recycle them and give your guests a memorable keepsake at the same time. Green Bridge Guide is a company that embeds your flowers into cards made with 100 percent cotton fibers for a one-of-a-kind, handcrafted Thank You' Card your guests won't forget.
An orchid's versatility and appearance make it a unique flower to use on its own, but when paired with these creative techniques, orchids can go a long way in making your wedding day memorable for everyone who attended and, most importantly, for you and your new spouse.
For even more orchid-inspired wedding day decor ideas, download "Incorporating the Elegance of Orchids into Your Wedding" today!