Your bridesmaids are the closest people to you. They have been there for the most important times in your life and now will witness the unity of you and your partner. They deserve a reminder that you love and appreciate their help over months of stressful planning.
Here are the best bridesmaid gifts to thank your 'I Do' crew while staying on budget.
Best Bridesmaid Gifts Under $25
Soothing Sloth Bath Bombs
Soothing Sloth - YAS QUEEN Bath Bomb
What better gift than the gift of relaxation? After months of planning and a little partying, bath bombs are the perfect gift of R&R for your bridesmaid beauties. Soothing Sloth has bath bombs ranging from $5-9, so get one or a couple and still stay under budget. With a selection of different colors and scents, you can't go wrong with any of them. Our favorite is "YAS QUEEN" with a mixture of rose and cedarwood fragrance. Soothing Sloth bath bombs are made with natural products and essential oils. They smell delicious and give your skin a glow, perfect for the big day!
Bottle of Bubbly
Give your gal pals the gift of champagne! Pick out a bottle of your bridesmaid's favorite bottle of bubbly. You can get higher-quality champagne from $25 or less. Personalize it by writing on the bottle with a paint or metallic marker.
Bridesmaid Monogrammed Robes
The Knot - Women's Personalized Jersey Knit Robe with Lace Trim - Powder Blue
Want to match for the wedding day with your wedding party? Get ready together with matching robes. These monogrammed robes make special gifts for your girls for only $22.99 (prices vary based on color and style). You can customize the robes and tailor them to your bridal party needs.
Personalized Stainless Steel Wine Tumbler
Etsy - Bridesmaid Gift Stainless Steel Wine Tumbler
On its own or paired with a lower price bottle of wine, these stainless steel wine tumblers make the perfect gift. For only $7.69, you can give these cute personalized wine containers with your bridesmaid's name on them!
Personalized Bridesmaid Earrings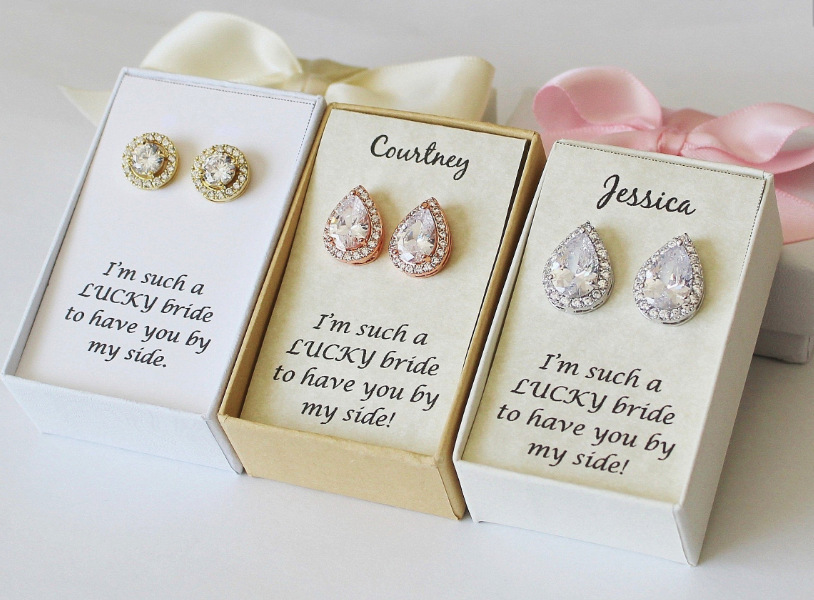 Etsy - Engraved bridesmaid earrings
Personalize a message to your bridesmaids on the packaging of their wedding jewelry! If you have a specific style jewelry you want your girls to wear for the big day, gift them their earrings with a cute message for only $9.85.
Gifts From $25-50
Money Tree
Just Add Ice Money Tree
The money tree plant represents prosperity and gives its owners good luck! Gift your gals with a houseplant that is easy to take care of and fulfills their life in the best way. For only $44.99, your bridesmaids will be able to remember the pre "I-do" months every time they look at their money tree plant.
Emergency Bridesmaid Wedding Survival Kit
Etsy - Velvet Favor Bags
Grab these velvet monogrammed favor bags for $10.99 and put wedding day essentials in them for your bridesmaids!
We suggest these items to put in your wedding day survival kits:
Tylenol
Mini sewing kit
Mints
Emergen-C
Chapstick
Granola Bar
Shout wipes
Tissues
Bobby pins/hair ties
Bandaids
Tums
Razor
Deodorant
Pads/tampons
Nail file
These bags will range from $25-35 dollars each depending on what you put into them.
Satin Personalized Pajama Set
The Knot - Personalized Bridesmaid And Bridal Silky Shortie Pajama Set
Treat your bridesmaids to a set of luxury satin pajamas with their name or initials embroidered on them! They come in a range of colors and patterns, perfect for hot summer nights. These pajama sets can be found on The Knot website for $27.99.
Photo Book From Shutterfly
Shutterfly - Black and White Confetti Shine
Give your bridesmaids a special gift full of your best memories together! This 20 page, 11x14 photo book from Shutterfly can be personalized with different styles and captions. Upload pictures of you and your best friends or family members, and make beautiful collages of your favorite moments! The book starts out at $37.50 for the standard version. These photo books make wonderful gifts for your wedding gals that they will cherish forever.
Kate Spade Wristlet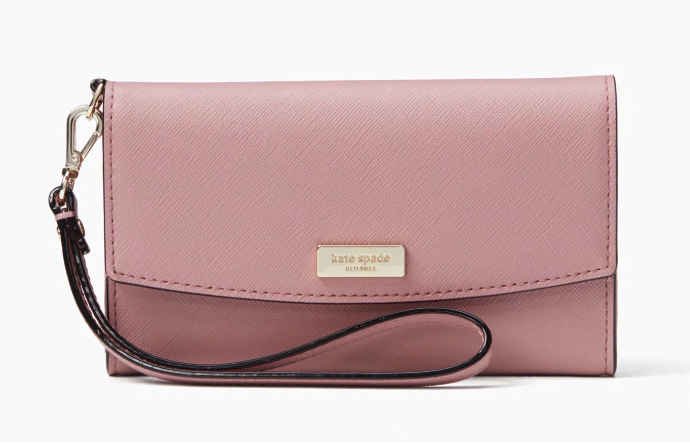 Kate Spade - Laurel Way iPhone Wristlet
Kate Spade is known for having classy and unique pieces that make great gifts for any occasion. You can give your bridesmaids a designer wristlet for only $39! They come in a variety of colors so you can find the perfect one for each bridesmaid.
Gemstone Necklace
Etsy - Raw Gemstone Necklace
Jewelry is always a great gift to give the people you love! These gemstone necklaces can be customized in length, stone, and type of chain to best fit the style of your bridesmaids. Get them on Etsy for $38.
Gifts From $50-100
Orchid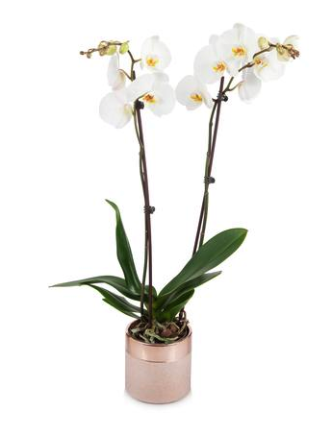 Just Add Ice - Classic White Orchid with Rose Gold Pot
Orchids make great gifts for every occasion! They represent love and beauty, which is perfect to commemorate your friendship with your bridesmaids. This classic white orchid is only $54.99.
UGG Blanket
Ugg - Duffield Throw
Snuggling up on a rainy day with a comfy blanket and your favorite book is the best night in! Get your girls a snuggly surprise. You can purchase this UGG blanket for $98.
Luxury Candle
Bloomingdales - Jo Malone London Sweet Almond & Macaroon Candle
High-end candles are a great way to thank your bridesmaids. Your bridesmaids can kick back in the bath with their long-lasting luxury candles and relax. You can purchase the Jo Malone Sweet Almond & Macaroon candle for $67.
Sucr
é

Macarons & Chocolate
Sucré - 2 Pack Bundle, 8 Piece Macaroon & Chocolate
What's better than fancy treats? Absolutely nothing! You can gift your bridesmaids with delightful desserts from Sucré. You have the option of selecting from different flavors to mix it up for each person based on their taste! These gift sets can be found on the Sucré website for $67.
Ember Coffee Mug
Ember - Ceramic Black Mug
Ember is the first coffee cup that controls the temperature of your hot beverages! You can enjoy coffee, tea, or hot chocolate at the temperature of your choice.The Ember makes a great gift for your favorite ladies. You can purchase the 10 oz mug in black or white for $79.95.
Gifts Over $100
FabFitFun Box Year Subscription
FabFitFun - Spring 2019 Subscription Box
Online shopping feels like Christmas Day. You order an item and anticipate its arrival and then when you open your package, it's like opening presents on Christmas morning! With the FabFitFun box, your bridesmaids will receive one box for each new season. These boxes are filled with different beauty products, season-related items, and accessories. A yearly subscription is $179.99 with free shipping.
Bose Speaker
Bose - SoundLink Color Bluetooth speaker
A commonality between friends and family is usually music, no matter what genre you like. Speakers are gifts your bridesmaids will use every day, from getting ready for work to playing tunes at the next party they host. You can gift them the Bose SoundLink speaker for only $129.95.
Tiffany's Bracelet
Tiffany & Co - Heart Tag Bracelet
Tiffany's iconic classic heart bracelet is a fantastic way to show your appreciation! Every girl has dreamed of showing off absolutely anything that comes from a Tiffany blue box. Beautiful and elegant, this bracelet is $165 on the Tiffany's website.
Ray-Ban Sunglasses
Ray-Ban - Erika Classic Sunglasses
Purchasing quality sunglasses isn't always a priority for most people, but receiving them as a gift is the best surprise! Ray-Ban is known for providing their customers with high-end, excellent quality sunglasses. They have a variety of colors and styles to best fit your bridesmaids and their taste. Most of their sunglasses are priced under $200. The "Erika Classics" are listed for $128 on the Ray-Ban website.
Whatever your budget may be, you can find the best bridesmaid gifts for your crew in this roundup. From the shower to the ceremony, they have helped you plan, given you moral support, and celebrated you through the entire process, give them a gift that reflects your gratitude.