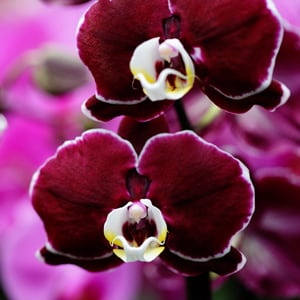 Orchid decor can be very versatile because orchids come in a wide variety of colors and patterns. So when it comes to planning your décor, there are never-ending options for you to choose from. Whether your style is classic, modern or a little bit funky, there is a Phal that'll fit perfectly anywhere in your home.
A Touch of Elegance With Orchid Decor
Does your home look like a page out of The Great Gatsby? Or do you find yourself admiring Ralph Lauren ads in magazines? Your orchid décor style is probably one of timeless elegance. For the classic enthusiast, solid-colored orchids are the way to go. You'll find them in soft colors like coral and yellow to name just a few. Solid-colored orchids are the perfect complement to traditional décor elements, because of their simple, yet vibrant character.
Modern Chic Orchid Décor
From white on white to geometrically inspired designs, modern décor is artful yet trendy. For a modern aesthetic, you can't go wrong with a simple, brilliant white Phal. In a white room, white Phals create a monochromatic effect that's pleasing to the eye. In rooms with pops of color, unique shapes and intricate patterns, white orchids provide a cool and subtle backdrop upon which the more detailed elements will shine.
Also a welcome addition to modern décor, solid Phals in rich hues like magenta, violet and burgundy (check out this black pearl mini) bring a modern pop of color to an all-white or otherwise monochromatic room.
Orchid Décor That's A Little Bit Rock & Roll
For something a bit funkier, try a patterned Phalaenopsis orchid. There are several to choose from including Phalaenopsis corningiana, Phalaenopsis sumatrana, or Phalaenopsis mariae to name just a few. Patterned Phals are typically lined or spotted and often come in a bright shade of fuchsia. These stylish blooms will add just the right amount of flair to your décor.
Want more examples of how to incorporate Phalaenopsis orchids into your décor? Check out these photos!