When someone steps onto your front porch this fall, they should feel like they're home before the door even opens.
Make your home stand out this fall with elegant and versatile front porch decorations that will welcome everyone, including Thanksgiving dinner guests.
Here are five ideas to inspire you.

1. Hang a Festive Wreath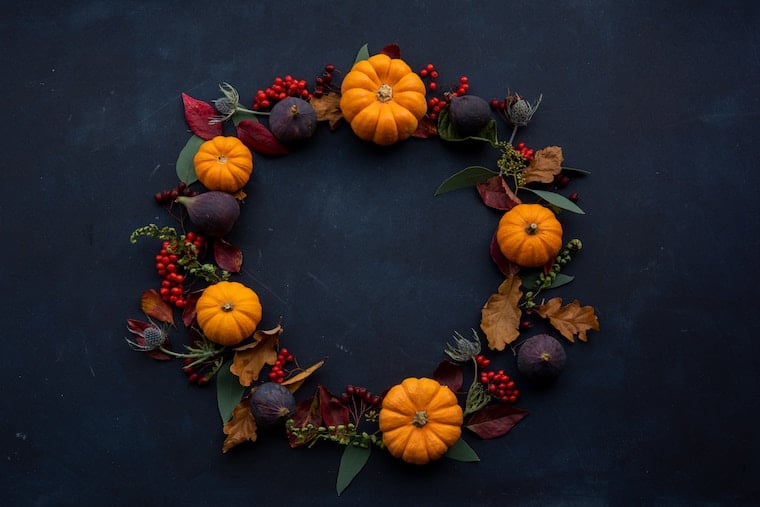 If you have a brightly-colored door, go for a simplistic approach—like a rustic wreath made of twigs with minimal color.
If your front door needs something more to make it pop, you can never go wrong with a wreath filled with beautiful, fall-colored leaves. The reds, oranges, and yellows of the season will make any guest feel the warm welcome into your home.
(photo credit: Unsplash)
2. Keep a Consistent Color Scheme
If you really want your home to stand out, choose a monochromatic color scheme for your front porch decorations.
Everyone typically associates reds, oranges, and yellows with fall, but shades of white, beige or gold also work well.
White mums or a classic white orchid, along with white pumpkins, will add a peaceful elegance to your front porch.
(photo credit: Instagram @shiplapshanty)
3. Turn Jack-O-Lanterns Into Calm Mood Lighting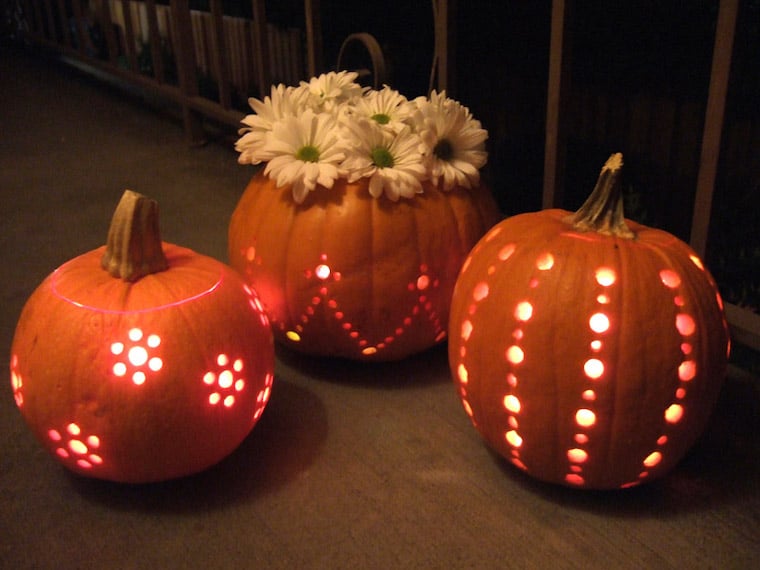 If pumpkins are a mandatory part of your fall front porch theme, don't just settle for plopping a pumpkin down or carving any run-of-the-mill jack-o-lantern face. Turn your pumpkins into light fixtures that will make you feel serene by carving or drilling geometric patterns. Something about the balance of symmetry and light feels warm and inviting!
(photo credit: cuteDIYprojects)
4. Offer a Mix of Traditional and Non-Traditional Seating
Front porch seating often consists of rocking chairs, porch swings, or simple benches.
Spice up your fall front porch decor with hay bales or barrels instead. Add a cozy blanket and festive pillows, and your guests will feel right at home.
5. Go With a Rustic Approach

The crisp fall air makes you think of apple farms, pumpkin patches, wagon rides, and corn mazes. Why not add your family's favorite fall pastimes into your front porch decor?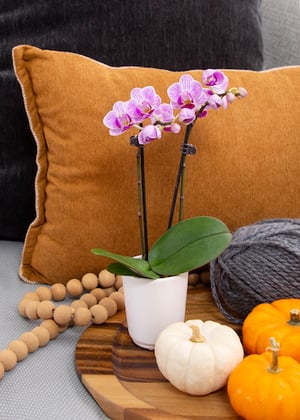 Try stuffing a wagon with artificial apples, pumpkins, gourds, and corn husks, placing a friendly (not frightening) scarecrow near your front door, or filling mason jars with fall-colored flowers set atop wooden boxes. The rustic look is flexible, so you can tailor it to your family's personality.
Which of these fall front porch decorations will you try this year?
Here's a bonus pro-tip for you, too—try placing indoor plants outside if you live in a warmer climate. For instance, orchids, anthuriums, and money tree plants can all thrive outside, as long as temperatures stay above 55 degrees.
For the cold weather folks, try adding those indoor plants to your dining room table so your indoor decor will be just as impressive as your front porch!