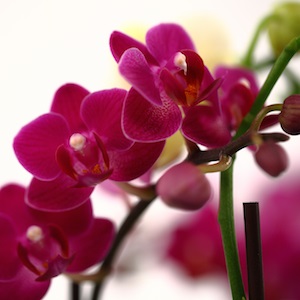 Have you ever noticed how color can affect how you feel? You walk into a room with light blue walls, and you suddenly feel calmer. You walk into a room with deep red walls, and like a bull, you feel agitated, aggressive even.
The link between color and mood is well known. Just think about how color references permeate everyday expressions like, "once in a blue moon," "paint the town red" and "tickled pink." But did you know orchid color may impact your emotions as well?
Today's post will show you how to harness the hue of your orchid to give you a creative boost, melt away tensions and reveal your playful side.
Purple: Royal Relaxation
If you're an 80s pop music fan, then you probably know "His Royal Badness" Prince is a purple fiend. His nickname reveals he knows a thing or two about his favorite color. Purple is associated with royalty and luxury. The blend of warm red and cool blue create a soothing color that's also related to intuition. In Feng Shui, this color is ideal for attracting abundance. Place light purple orchids in your bedroom to sooth your nerves after a long day at work.
White: Sparkling & Clean
When you think of cleanliness, white is the color that likely comes to mind. White is considered hygienic, sleek (think Apple). It also creates the illusion of space, making it a good color choice for small spaces. Orchids thrive in bathrooms, and adding a few white orchids to your bathroom will add an air of sophistication and elegance. This pristine color will also motivate you to keep your bathroom as spotless as your orchid.
Pink: Feminine Appeal
Pink is a versatile color that represents compassion, nurturing and love. Deeper shades of pink embody passion and energy, whereas lighter, softer shades of pink are seen as cute and romantic and are highly appealing to adolescent and teenage girls. If you have a young daughter or niece, giving her a pink orchid for her bedroom can add a touch of freshness and feminine appeal.
Yellow: Happy Go Lucky
There's a reason people are more cheerful on sunny days than overcast ones: Yellow, the color of the sun, symbolizes joy and optimism. Bright yellow can irritate your eyes and spark your temper, so use this shade sparingly. A yellow orchid for your kitchen is easy on the eyes, and according to some sources, may even increase your metabolism. (Anything that can help you burn more calories with minimum effort, right!?
Just Add Ice® Orchids are available in a wide array of hues and patterns. No matter what mood you're trying to achieve, we've got you covered! Find a store near you to find your perfect orchid today!