Marcel Boonekamp literally grew up in a greenhouse. In a small town outside of Rotterdam, in the Netherlands, he watched his parents tend and build a tomato-growing business. It was there that his love of horticulture began.
"I grew up around the greenhouse," Marcel says. "I was always involved and helping out, and that's why I decided to study horticulture."
In addition to growing tomatoes, Marcel's family also grew cutting roses, which is one of his favorite plants.
"I love the way they grow, and the way they present," Marcel says. "A cutting rose is the queen of the cutting flowers."
In 2013, Marcel's family business closed and he began looking for a new opportunity. For his next job, he stumbled into orchids at a Dutch orchid grower and enjoyed the challenge they presented. His work with orchids ended up helping him land his job as director of growing at Green Circle Growers (Just Add Ice's parent company) in 2015, which is when he uprooted and came to live in Ohio.
"Orchids are a slow-growing crop and this is really fascinating because tomatoes and roses grow pretty fast," Marcel says. "It can be a week before you see any changes in your orchid. Getting to know how to grow them and what's involved is what I love. It's a lot of planning, but as you get to know it, you see a lot of how they grow and change."
At Just Add Ice, there are 33 acres of dedicated orchid production, making it the largest orchid producer in North America. The orchids are grown in an environmentally friendly fashion, using highly efficient growing techniques, water conservation and a sustainable heat source. The flowers go through every stage of life here — from tissue culture to bloom. The entire process takes about 1.5 years.
"What I love most about this job is the combination of working with people and plants," Marcel said. "It's dynamic, never boring. And plants are like humans — they always surprise you and you have to respond."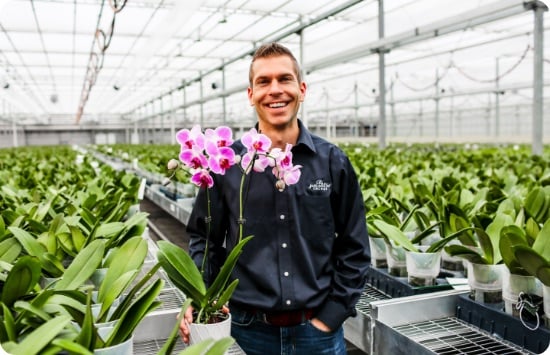 This is especially true of orchids, Marcel says. The basics of growing plants remain the same, but you can't blame a computer for something that happens to the plant. Everyone on Marcel's team learns these problems and fixes them together.
"The orchid is the queen of the flowering potted plant," he says. "There's a lot of emotion involved when you're buying them."
What does Marcel say to people who are hesitant to buy an orchid?
"Just try, it's not scary at all. As people try, they find out it's not that hard — it's actually really rewarding," he says. "Even when the flowers are gone, they have a chance to rebloom again, and that takes patience. They learn to really appreciate the plant and see how it changes."
He continued, "Orchids are great because there's an unlimited option of colors and combinations available. They have a long shelf-life and it's a product that really lives. You can enjoy it for years."
Personality-wise, we asked Marcel to tell us which plant he most identifies with. He laughs and says maybe we should ask his wife ("Hopefully she wouldn't say I'm a cactus!") before landing on an anthurium.
"I like to listen to people and give them a chance to give input," he says. "I'm pretty open to feedback and I have a positive attitude."
Anthuriums, like Marcel, are easy-going and forgiving plants.
Watch an orchid Q&A with Marcel here and here.