Mini orchids are as gorgeous and as versatile as full-sized orchids. And aren't miniature versions of things so stinkin' cute in general? Mini orchids also make great gifts during the holiday season, especially when you aren't sure what to get your loved one.
Here are five big reasons why you should snag some mini orchids this season.
5 reasons mini orchids make great gifts
They brighten up any space
These pint-sized Phals pack a lot of punch, especially when it comes to versatility. A mini orchid can liven up a small space, like a desk, or you can group several mini orchids of similar colors to fill a much larger space like a centerpiece, for example. You can also add a touch of flair to your little orchid by personalizing its pot.
Less is more
Mini orchids are beautiful and easy to care for. Our minis require even less work than their full-sized counterparts. They require only one ice cube a week, compared to three cubes per week for our larger premium orchids. Minis also require less fertilizer and less potting medium than their larger counterparts.
An excellent introduction to orchids and plant care
Unlike cut flowers that quickly perish, the gift of a mini orchid will last a long time. Giving friends or loved ones mini orchids is also a great way to introduce them to the beauty of the orchid world, even if they don't have a green thumb. Your gift could easily inspire someone to become an orchid enthusiast!
Potting medium that is attractive and functional
Larger orchids use larger, bulkier medium, like pine bark, to help aerate their roots. But mini orchids are too small for this type of medium. Minis are planted into coir plugs, which are small, compact masses of plant-growing medium. Coir is fiber from the outer husk of the coconut, which helps retain humidity in the small orchid root zone without retaining too much water.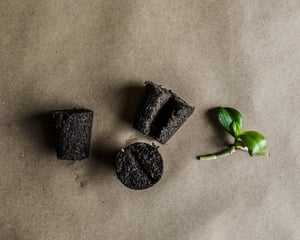 Create an indoor magical garden
Terrariums are contained, self-maintained eco-systems that do not require much care because they recirculate oxygen, carbon dioxide and moisture. And while terrariums are small, they leave a lasting impression. Colorful mini orchids can really brighten up the normal greenery of a terrarium. Add some stones and ferns for added texture and balance. You can give a terrarium as a gift or create one for yourself.
Shop bulk mini orchids
Mini orchids are every bit as gorgeous and as versatile as full-sized orchids, and owning one of these small beauties comes with its own benefits. Mix and match our minis with our full-sized orchids for a display that is every bit as beautiful as it is dramatic. Shop our Flower Shop in a Box to find a 12- or 20-pack in white or multicolor for your loved ones. It's a gift they'll cherish for months or years to come.