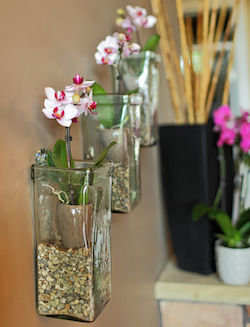 One of the many wonderful things about Phalaenopsis orchids is their distinct look. Once you've seen a Phal, you're able to recognize their beauty anywhere! You can capitalize on orchids' breathtaking beauty to draw the same admiration for your home décor. Check out these four ways orchids liven up your home or office:
Glass Beads: They're Not Just for the Holidays!
If you love the look of glass beads with your orchid during the holidays, why not use them all year round to accentuate your orchid's natural beauty? Glass beads are available in a myriad of colors like red, silver, gold, green or opaque. Add one color to your vase or match the room's décor by incorporating two or more colors.
Liven Up Your Living Room
Your living room is the focal point of your home: It's where you unwind and also where you entertain your guests. That's why you've made your living room as cozy and inviting as possible. Orchids can add to this ambiance. Placing your orchid in a beautiful decorative container can compliment both your living room and the flower. You can even add accents like Spanish moss to give your orchid a nature-inspired look. Where you place your orchid is as important as the pot you put it in. To add the most pizzazz to your space, look for bare spots that could use a little color.
Add a Touch of Color Anywhere
Got a small space to fill that needs a touch of color? How about a larger area like a marble kitchen countertop? Orchids are just as versatile in size as they are in color and variety and are available in mini and full-sized versions. Mini orchids are every bit as breathtaking as their full-sized counterparts and perfect for little spaces. Larger orchids can be potted together in a planter to accentuate larger spaces.
Personalize Your Workspace
Orchids don't just enrich your home. You can bring an orchid to your office to personalize your workspace, too! Not only do orchids add a touch of beauty to your desk, they can also enhance the quality of your work. In a recent study at Texas A&M University, researchers found that orchids in the workplace enhance creativity and problem-solving capabilities.
Want even more orchid décor inspiration? Visit our Pinterest page to get lost in the endless possibilities!