Creating unique orchid arrangements is one of the best ways to transform your plant from a mere decoration into a statement piece. Your Phalaenopsis orchid may come in a pot, but that doesn't mean it has to stay there. Below we've highlighted six orchid arrangements that are sure to impress.
Here are six beautiful phalaenopsis orchid arrangement ideas to provide a little inspiration.
1. Combine orchids, anthuriums and succulents
This orchid arrangement idea isn't just beautiful to behold—it's also interesting. With so many different textures and colors, combined with the varying heights of the plants, these orchid arrangements are sure to add intrigue to any room in your home.
2. Create an orchid terrarium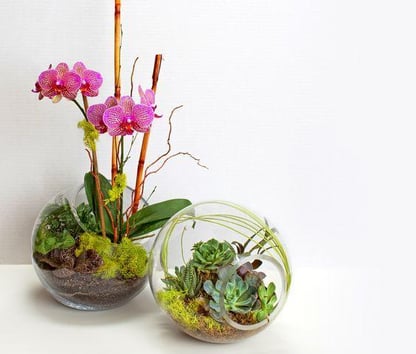 Terrariums allow you to see the full makeup of your plant—from flowers and stems, all the way down to roots in the soil. This presentation would be especially great for orchid lovers with children who are interested in learning more about how plants grow.
3. Add intrigue with antique accessories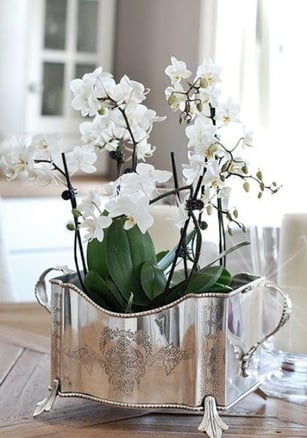 Don't be afraid to stretch the boundaries of what can be a good home for your orchid. Antique accessories like the silver container seen here are perfect for incorporating your orchid arrangements into other stylistic elements of your décor.
4. Hang in a birdcage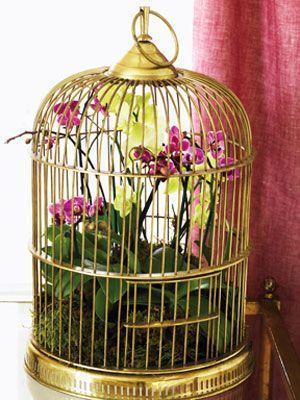 Let your orchid arrangement ideas take flight by placing them inside an ornate birdcage and suspending them from the ceiling. They may be a little more challenging to water, but the dramatic appeal will be worth it.
5. Go horizontal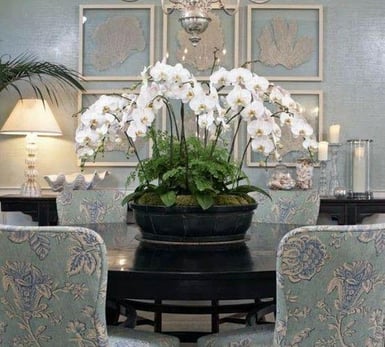 What's better than one orchid? LOTS of orchids! Try repotting several orchids in a long horizontal planter, then sit back and enjoy the elegant cascading effect of these orchid arrangements.
6. Use a basket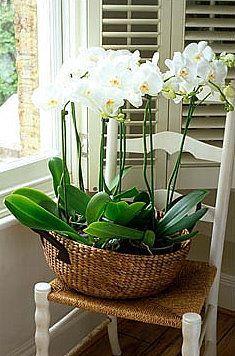 While you'll still need an inside planter pot, replanting your orchids in an interestingly shaped basket is a great idea for a casual arrangement or a gift for a friend.
The sky's the limit when crafting beautiful orchid arrangements, so don't be afraid to make your vision a reality. And for even more inspiration, check out these results from Pinterest.