Fall colors are beautiful and captivating. So when you're putting together your fall decorations, you can consider blending your colors of the season with your orchid decor. If you're not convinced, looking at pictures of orchids can help.
From centerpieces to mantelpieces to your fall porch decor, there are plenty of ways to make orchids work this time of the year. They can complement many fall decorative ideas. This is especially true if you're looking for a new way to showcase one of your plants. The sky's the limit!
So, if you're looking for ideas, here are five pictures of orchids you can use to inspire your fall orchid decor.
Orchid Centerpiece
You can replace the cornucopia with some orchid decor. You'll still have some color, and you can customize the base of your orchid pot with leaves.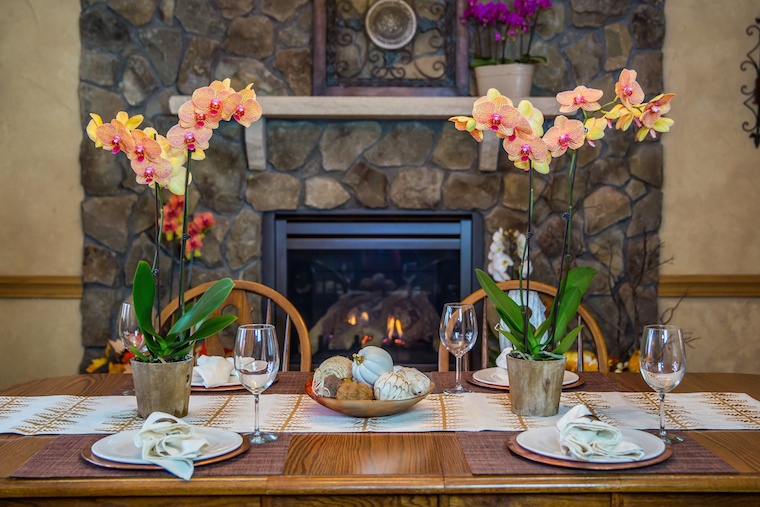 Pumpkin Displays
If you want to add a pop of color to your pumpkin display, incorporating an orchid is a good way to do it. Decorative pumpkins are available in multiple colors to make the perfect complement to your orchids. You can find them at any craft or home decor store.
Bedroom Dresser
You can put together a nice little display in your bedroom, choosing a bedside table or corner of a dresser to liven up. To avoid stressing your orchid while you try it in different spots of your room, try this easy tip: snap a photo of your orchid on your smartphone to see how it would look in each location before moving it to its new home.
Storage Bench
Staying in the bedroom, try dressing up the storage bench or trunk at the end of your bed with an orchid. Just be sure to get that extra blanket out of there for those cool, crisp fall nights.
Mini Orchid on the Mantle
Complement your fall fireplace mantel decorations with a mini-orchid. They're small enough to fit nicely within any display and can add a touch of color.
Hopefully, these pictures of orchids will provide the inspiration you need to complete your look. There really are no limits as to how or where you can place your orchids in the fall. The vibrant colors of the season make orchids the perfect plant to pair with almost any decoration.
If you need a little more inspiration, our "Fall Home Decor Lookbook" can help. You can use it to inspire some outdoor looks, a table display, and everything in between.