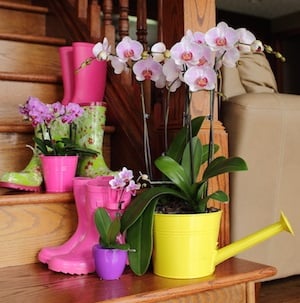 The colors of spring are just beginning to make a welcome entrance after a long and icy winter. And while it won't be much longer until your neighborhood is once again filled with beautiful outdoor greenery and flowers, you can jumpstart the season by creating one-of-a-kind springtime orchid decorations for your home.
Decorating your home with orchids during the spring is a wonderful way to enjoy the airy, bright and cheerful tones of the season indoors. We share a few springtime orchid decorating ideas to get you started here:
To keep your orchids healthy, never remove them from their plastic grower pots before placing them in decorative pots or another container. Clear plastic grower pots not only allow you to see your plants' roots, they also allow you to easily empty any excess water from the bottom of the pot.
Want to see how we decorate with orchids in the spring? Check out this decorative planter project video!