You'll know your orchid is preparing to bloom again when you notice what looks like a root sprouting from the media. The difference, though, is the tip of this growth will take on the shape of a mitten. If it's just a root, it will maintain its rounded edge.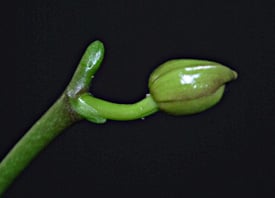 As your new spike grows, you might need to support it with a stake. But be sure to wait until the spike has finished growing before you clip it onto a stake.
Resist the urge to display your new budding blooms elsewhere in your home. Exposing budding blooms to a new sunlight location can cause the floral display to become twisted. After your blossom has fully formed, feel free to move your orchid to a new location.