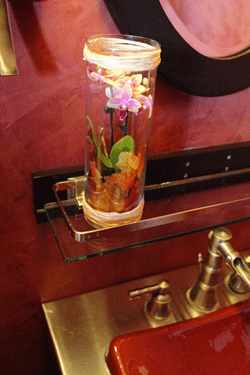 Left to their own, of course, orchids present a vivid image of nature at its most compelling. But just as you'd upgrade your own appearance for a party – with beautiful jewelry or carefully designed makeup – you can likewise play up your orchids for maximum holiday impact.
Even if they're not currently flowering, you can find new ways to draw attention to your orchids.
Relocating. Sometimes just a simple change catches people's attention. If your pots normally sit on the kitchen counter, for example, arrange them on a table near the front door where they'll greet your arriving guests, or have them grace the restroom counter.
Pot decorating. Show your hardworking orchid pots a little love during the holidays. Wrap ribbons around them, drape them in holly, surround them with party lights, or glue little Christmas cookies to their sides.
Accessorizing. Some careful accessorizing of your orchid plants can pay off with a great holiday look. Find seasonal or holiday picks from your local craft store and place them into the soil alongside the orchids. You can also insert a spike into the soil (being cautious not to disturb the roots) and hang tiny Christmas ornaments from them.
Cutting. If you are in the mood to cut blooms from your pots or greenhouse, the holidays are a good time to display them. Insert some into bud vases for your holiday table as a focal point, or tie a ribbon around the stalk and secure them to your Christmas tree.
You can even consider giving one of your holiday creations to your guests as take-home gifts, with instructions on how to grow and care for their new orchids.
Get into the holiday spirit
Whether your holiday decorating centers on the subtle or the elaborate, you can find a place for your orchids in your plans. You can also find hints, ideas and conversations on the Just Add Ice forum, created just for orchid fans.