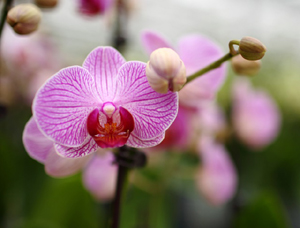 Spikes, blooms, leaves… the many parts of a Phalaenopsis orchid can give you a good indication of the plants overall health. Proper orchid care also focuses on a part of the plant that needs special attention: the bud.
The bud is the most sensitive part of the plant – a fact well known by the growers at Just Add Ice Orchids as they prepare their plants for delivery to one of the many stores that sell these colorful flowers. The way temperature, humidity and light levels change in transit can cause a trauma to the orchid and make it abort the buds.
Handle with Care
Just Add Ice takes steps to keep their buds thriving during transport from its main greenhouses at Green Circle Growers, one of the largest greenhouse operations in the Midwest, to retail centers across the United States. The growers choose only the healthiest plants, then pack and ship them carefully prior to delivery.
The plants are potted, then put into a protective sleeve
The sleeves go into trays to keep them upright in the box
The trays are placed in a box with heat packs to keep a constant temperature throughout transportation
Your Part in Orchid Care
Once you get your Phalaenopsis home, keep an eye on the buds as you find the ideal setting for your pot. A warm, more humid environment – free of direct sunlight or draft – will help your buds retain optimum health and bloom into flowers that will delight you for a long time to come.
Find more orchid care tips by checking out some of our other blog posts.