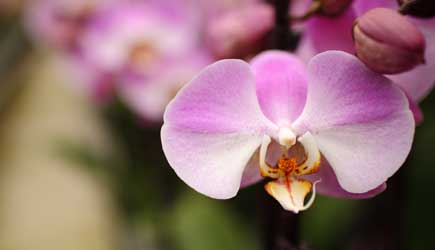 The stunning sight of a Phalaenopsis orchid in full bloom is nothing less than breathtaking. Their huge, curving petals saturated with color; double rows of gorgeous blooms march along gracefully arching stalks that rise Phoenix-like from a loose nest of broad green leaves. The site of a massed display of blooming Phalaenopsis orchids is so arresting that the home and garden centers, groceries and big box stores that sell Phalaenopsis orchids frequently locate displays near entry areas and main traffic paths, inviting shoppers to enjoy the view and enticing them to take an orchid home.
How to Pick a Winner
Many do; but when looking at a display of Phalaenopsis orchids in bloom, it can be difficult to tell if one plant is superior to another. Orchid growers, naturally, ship plants in good health and peak bloom; but certain qualities can make one plant slightly more desirable than another. Knowing how Phalaenopsis orchids are judged by professionals can help you look through your local selection and pick a winner.
Tips for Selection
When choosing the "perfect" Phalaenopsis orchid, orchid judges and professional growers look for these characteristics:
Orchid shape (form) should be full and round with curved, smooth-edged petals
Large flower size is a prized hallmark of Phalaenopsis orchids
A high flower count (number of blooms per stalk) is highly desirable, although floriferous plants may have smaller blooms
Thick petals (substance) are preferred as they are associated with longer flower life
Flower petals should be smooth and fine textured
Flower spike growth (inflorescence) should be vertical with a graceful downward arch
Once you have picked your own gorgeous plant, visit our website to learn how to care for it and set up watering reminders.