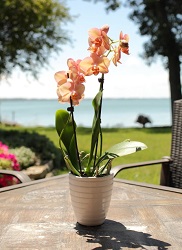 Just like people, too much sun is bad for the Phalaenopsis orchid plant. Unlike humans where adding sunscreen is an option when time is spent in the sun, Phalaenopsis orchids must instead live a somewhat sheltered—or better yet—filtered lifestyle. Phalaenopsis orchids will grow splendidly if proper care for their temperament is taken into consideration.
Sunlight and Your Phal Orchid
There are 20,000+ species of orchids. The Phalaenopsis orchid is one of the most prized species of plants that are found growing indoors throughout the United States. Owners of Phalaenopsis orchids often run into trouble with their orchids when they place the plant in a location where a robust amount of sunshine affects their ability to thrive.
Sheltering Your Orchid Plant
While Phalaenopsis orchids do enjoy natural light, they cannot withstand the blasts of heat that is associated with being placed in direct sunlight. Orchid growers recommend that Phalaenopsis orchids be placed in an area that is not exposed to direct sunlight where they will not become too hot. These delightful houseplants will flourish in humid climates that are warm, where they are sheltered behind a sheer curtain or dappled shade. The Phalaenopsis orchid will succeed when offered, at minimum, a half day of sunlight that is filtered. The best sunlight for a Phalaenopsis orchid can be found on the south or west facing window.
For most areas of the United States, May through September is the hottest months to endure. Careful watering considerations should be taken to ensure that the Phalaenopsis orchid is well watered, but never left wet and soggy. For the watering of Just Add Ice Orchids, you just add 3 ice cubes once a week—it's that simple! Always remember to let the roots dry out between waterings and do not over-water to avoid problems with the Phalaenopsis Orchid.