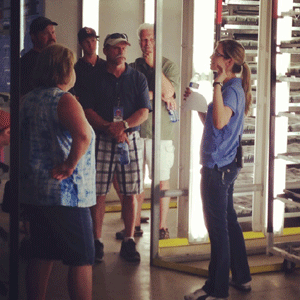 Green Circle Growers was thrilled to host the Garden Centers of America (GCA) Tour earlier this week. GCA members, consisting of independent garden center owners and buyers, were invited into the Just Add Ice Orchids greenhouse to get a behind the scenes look at how we grow and raise our unique Phalaenopsis orchids. Just Add Ice Orchids are grown and supplied by Green Circle Growers, one of the largest greenhouse operations in the Midwest.
Occurring every June, the GCA Summer Tour allows for individuals to visit top garden centers in the country to see how they are marketing and selling to customers. The Garden Centers of America focuses solely on the needs of independent garden center owners, buyers, and vendors. During this 22nd year of the tour, members travel to garden centers in Cleveland, Dayton, Cincinnati and Columbus. We were able to showcase Just Add Ice Orchids' economically responsible facility for Phalaenopsis orchids during the second day of the tour.
Visitors were able to experience:
A 20-acre production facility for Phalaenopsis Orchids
Orchid tissue cultures sorted by size and planted into community trays
Explanations of our strategies and practices by some of our experts
Exclusive looks at orchids only a few months old
Members of the tour got a unique view into our greenhouses that not many people are able to get, we took the opportunity to educate them on our best practices, emerging trends and proven strategies. We hope they enjoyed their visit as much as we enjoyed having them!
To stay up to date on Just Add Ice Orchids, sign up for our newsletter today.