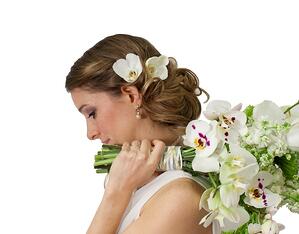 Summer is the most popular time to get married, so you're probably used to hearing wedding bells by now. If you're planning your Big Day, or get the honor and fun of helping plan a family members' or friends', consider a role for orchids.
Bouquet and Boutonniere
Between the bride's white gown and the groom's black tux, we rarely stop to consider how much the couple-to-be can complement one another visually during the ceremony. Draw attention and connection with an orchid bouquet/boutonniere combination.
Her bouquet can be comprised of Phalaenopsis orchids. By themselves or combined with roses or tulips, they make a colorful, beautiful accessory. For him, a small, elegant boutonniere is simple to make, using one or two blooms that match the bouquet. Include a couple of healthy green leaves, and tie it all together with matching fabric tape.
Ceremony Decor
The "I do's" can get even more people weeping with joy when the ceremony is enhanced with the beauty of orchids. These flowers can greet wedding guests as they enter the chapel. Pot them along the aisle where the wedding party marches, or arrange orchids in natural pots up at the alter where the bride and groom will stand. Consider hanging orchids from a chuppa or canopy where they will frame the couple with grace and charm.
Reception Centerpieces
There's virtually no limit to the imaginative possibilities of orchids at the reception. A beautiful arrangement in a natural pot will get everyone vying to take home a centerpiece; or you can spread the joy around with a single tied orchid on the dish at each table setting. Let them hang safely around candlesticks, which can reflect lovely natural light against the flowers. White orchids will match virtually every wedding color theme, but don't be afraid to get colorful, too.
Then when the special day is coming to a close, send off the guests with a unique wedding favor! Learn how you can personalize the plant with our "5 New Ways to Personalize Your Orchid" guide.