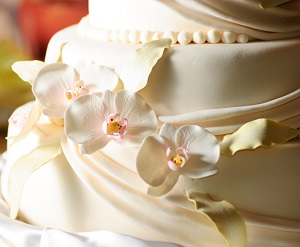 Weddings are one of the most special days for any bride and groom and nothing can make the day more beautiful than using Phalaenopsis orchids as decorations for the big day! Because of their versatility and hardiness, Phalaenopsis orchids can be used in a variety of ways for weddings or other fancy occasions.
Here are some examples of how to jazz up a wedding with Phalaenopsis orchids:
The Cake
Phalaenopsis orchid blooms can be used to add a dazzling array of color to a wedding cake as the flowers can be placed cascading down from the top to the bottom of the wedding cake. Sprinkling the cake table with additional orchid blooms or bunches of flowers in clear glass containers will add even more pizazz to the occasion.
Table Centerpieces
Reception tables can be decorated with simple or elaborate Phalaenopsis orchid displays. Whether white or colored, when placed in a glass vase with water, the simple flowers become an exquisite showpiece. Orchid blooms can be placed floating in pretty glass vases or even wine glasses.
Bouquet
White or colored Phalaenopsis orchids provide a stunning bouquet for any bride. Phalaenopsis orchid bouquets can be made in small and large size bouquets for all types of preferences.
Hair Accessories
Phalaenopsis orchid blooms are the perfect addition to any wedding hair style. Adding orchids for an up do or having the orchids clipped on the side will make any lady look lovely on her big day.
Chair Decorations
Phalaenopsis orchids can easily be cut and used to decorate wedding day chairs. They add the perfect ambiance for both indoor and outdoor weddings.
Gifts
Phalaenopsis orchids are a wonderful gift to give a couple for their wedding. Referring the couple to the Just Add Ice Frequently Asked Questions section of the website will help them to learn about the new addition to their family.
If you're interested in seeing some of these ideas, follow our Wedding Orchids Pinterest board!