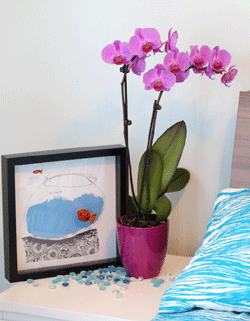 There has been some debate among orchid enthusiasts as to whether Phalaenopsis orchids, otherwise known as moth orchids, is the best type of orchid for people who are new to owning orchids.
We certainly are on the "yes" side of the debate of this issue for several reasons. Most people are successful in growing Phalaenopsis orchids if the simple regimen that is recommended by Just Add Ice is followed.
Lighting
Unlike some other types of houseplants, Phalaenopsis orchids do not require a huge amount of sunlight. They like being near a window, but not in direct sunlight. A window sheer or being behind a partial wall near the window will help to keep the leaves on the plants from being damaged and burnt.
Over-Watering
Many people tend to overwater their orchids, which is easy to do if watering in the sink or using a watering can. Phalaenopsis orchids should only be watered when they need it, which is why we encourage people to use the ice-cube watering method—three ice cubes once per week. This method has proven to keep orchids healthy and is the perfect means for watering. We even offer free watering reminders to all those interested. Click here to sign up for email or texting reminders.
Fertilizer
Your orchid does not require fertilizer while blooming; however, if your orchid has been enjoying the fertilizer regiment, then you can fertilize your orchid during the blooming period once a month. The most important aspect of fertilizing your Just Add Ice Orchid is not to over fertilize, as it requires very little fertilizer in order to flourish.
Temperature
Phalaenopsis orchids are tropical plants but that does not mean that you need to make your home into a tropical living environment. Phalaenopsis orchids are perfectly happy living in homes that have average temperatures that run from 65 to 80 degrees F during the day and 60 to 70 degrees F at night. To help prolong the life of your orchid, avoid cold or warm drafts, such as near an open window or heat vent.
Check out our Orchid Care Videos for more information.