The coronavirus pandemic put a lot of wedding plans on hold for couples around the world. As cities begin to reopen, couples-to-be have started planning their redo wedding bashes. As you plan your reception 2.0, consider these trends that will make your day extra special.
2021 wedding trends to try
Sequel weddings
Many couples still went ahead with micro weddings in 2020 and opted to throw the reception in 2021. Now, they're throwing sequel weddings to invite those who weren't in attendance the first time. Some couples plan on repeating their vows or creating ones they may not have said the first time while some are repeating first dances and other wedding traditions.
Sustainable weddings
In an effort to reduce the waste that weddings can produce, more couples are opting for sustainable options where applicable. One big trend is sending invites with wildflower seeds embedded in the paper. After the big day, these invites can be planted in the ground or in a pot for a sweet batch of wildflowers when the time is right. What a sweet way to remember your day!
Couples are also keeping sustainability in mind when filling out their registry, choosing items such as metal straws, reusable bags and containers, and silicone cupcake liners, to name a few.
Another big trend? Ditching cut flowers for potted plants like orchids, herbs or even trees. These plants last much longer than stems and can even be transplanted, depending on the plant and your plant zone. Mini orchids make a great addition to centerpieces and can even double as party favors. Find a variety of colors here.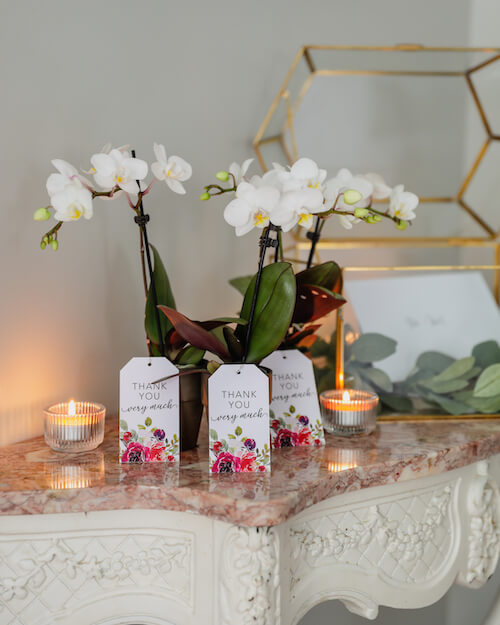 Outdoor weddings
Keeping the health and safety of their guests in mind, couples are still opting for outdoor wedding ceremonies and receptions under tents. These tents can be decorated with faux greenery, twinkle lights, streamers and more.
Smaller tables and assigned seating
Wedding tables typically seat up to eight people or more, depending on table shape. To keep wedding guests comfortable, some couples are choosing smaller pod seating and keeping families together, rather than trying to match people with different groups of people. If vaccination status is a concern, this is one way to assure guests that they are with people they know and feel safe around.
This trend also extends to ceremony seating where some couples are choosing to assign seats as well.
Mini cakes/individual portions
Rather than sharing one big cake, mini wedding cakes for each guest makes them feel special and cuts down on any cross-contamination risks. These can either be brought to your tables, displayed on a tier or sent home as favors.
Munchies before the reception have also become individualized. Gone are the days of sharing chips and dip. Now couples are using cute little clothespins to attach a cone of popcorn to a champagne flute, serving individual charcuterie boards, or presenting hors d'oeuvres plates rather than making everything family-style.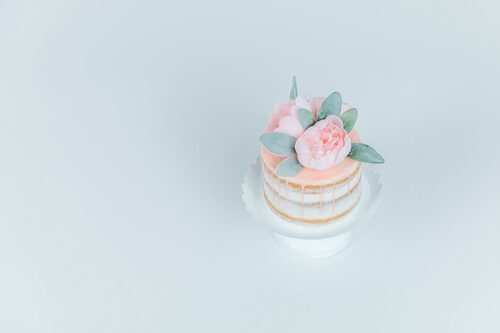 Wedding trends for 2021
Incorporating some of these trends into your wedding day will surely make you a bride and groom your guests will remember for years to come (especially when that mini orchid reblooms year after year!). What special touches are you adding to your wedding re-do?