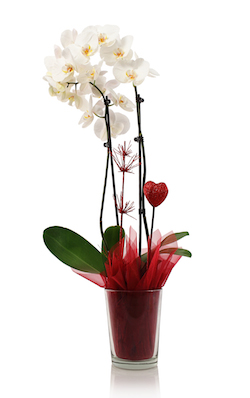 Ah, Valentine's Day. An entire 24 hours that celebrates the love we feel for our significant others. No flower is more associated with this day than the rose. But at Just Add Ice, we believe the orchid embodies Valentine's Day even more so than the traditional rose. Here, we discuss four reasons why orchids, not roses, are the ultimate Valentine's Day flowers.
Long-lasting Blooms
When you send roses on Valentine's Day, you know that, even with the best care, they won't last more than a few days. But that isn't the case with orchids! An orchid's bloom lasts long after Valentine's Day is over, usually up to three months after purchase.
Function as Two Gifts in One
On Valentine's Day, it's common to pair roses with another love token, such as jewelry, candy or a teddy bear. But as we've shown previously, orchid blooms can be made into eco-friendly jewelry. Orchid jewelry creators take real orchid flowers and treat them with resin to preserve their timeless beauty. So when you give an orchid, it's almost like you're giving two gifts in one!
Colors Say More than "I Love You"
Red is the color of love, which is why it's so abundant on Valentine's Day. The problem with red roses is, well, everyone sends them! Like roses, orchid colors have meanings, and you can use color to send your sweetie a personalized message that speaks directly to him or her.
One-of-a-Kind Gift
Just Add Ice orchids grows more than 200 varieties of Phals. No matter which orchid you choose, your gift will be truly unique and special. You can make your Valentine's orchid even more special by adding a few personalized touches. See the guide "5 New Ways to Personalize Your Orchid Plant" to get started!
Valentine's Day allows us to publicly cherish our significant others for the unique people they are. Make sure your gift is just as special as your loved one by giving the gift of Just Add Ice orchids.