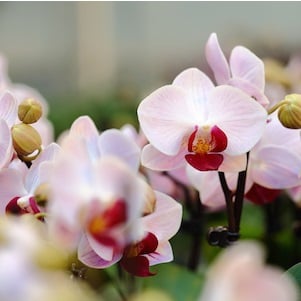 If you were to swing by the Just Add Ice Orchids offices, you'd notice the folks around here have a little extra pep in their step today. Why? It's our anniversary! March 10, 2014 marks five years since Just Add Ice Orchids were made available in retail stores to customers like you!
When couples celebrate their 5-year anniversary, they exchange gifts made of wood. And while we'll be sure to gift one another fresh potting media for re-potting our orchids this spring, we thought an even better gift would be to share a few of our exciting achievements with you! Check out how Just Add Ice Orchids has grown throughout the last five years below.
Orchid Greenhouse Acreage
Grown by Green Circle Growers, one of the largest greenhouse operations in the Midwest, the Just Add Ice Orchids project began with just 3.5 acres. Today, Just Add Ice Orchids take up an expansive 25 acres!
Number of Orchids Grown
In the beginning, our expert orchid growers grew approximately 1.5 million orchids per year. In 2014, our growers are gearing up to grow 7.5 million orchids!
Just Add Ice began growing mini orchids in 2012. In our first growing month, we grew 20,000 mini orchids. By the end of 2015, we'll be growing 160,000 mini orchids per month!
We began Just Add Ice Orchids with 60-70 orchid varieties. Today, we have 150!
Customer Reach
Just Add Ice Orchids started with approximately 10-20 retail customers. Today, we have more than 100 customers. That means Just Add Ice Orchids are available to you in more than 20,000 retail locations throughout the United States and Canada! Click here to locate a store near you.
Social Media Growth
Just Add Ice Orchids has a presence on seven of the largest social media platforms. These include Pinterest, Facebook, Twitter, Instagram, Google+, YouTube and Vine. We use these platforms to connect directly to you, our loyal customers.
Our Facebook page has grown to nearly 47,000 followers and has an average customer rating of 4.5 out of 5 stars.
Our orchid care and orchid project videos have almost 750,000 YouTube views.
It's Our Anniversary, But We Want to Give You Flowers
We couldn't have reached these impressive heights without you. As a way to say thanks, we're giving our loyal customers the chance to win the Ultimate Just Add Ice Orchids Care Package!
Now through Friday, you can enter to win a package containing a Just Add Ice Orchid, repotting care kit, orchid care guides and more! Five winners will be randomly selected from all entrants at 3 p.m. ET on Friday, March 14. Winners will be notified by email on March 14.
For more details and to enter for your chance to win, click here!
Celebrate our anniversary with us on social media! Share your well wishes on Facebook and Twitter!