The holiday season is almost upon us — and it is not too late to start your DIY Thanksgiving centerpieces. I know you're probably most concerned with menus and sleeping arrangements, but don't forget to focus on the smaller details that will make your home even more welcoming. With just a little effort, you can create an easy DIY orchid centerpiece for your Thanksgiving table that highlights the spirit of the season and makes your guests feel right at home.
Here are five ideas to try for your Thanksgiving orchid centerpieces.
Embrace the Autumn Color Palette
The beautiful yellows, oranges and reds of fall are easy to replicate since orchids come in such a variety of colors. Fill the center of your table with a collection of mini orchids representing the entire autumn color palette. Each beautiful bloom color will work together to create the perfect November ambiance for your guests.
Bring in Mini Pumpkins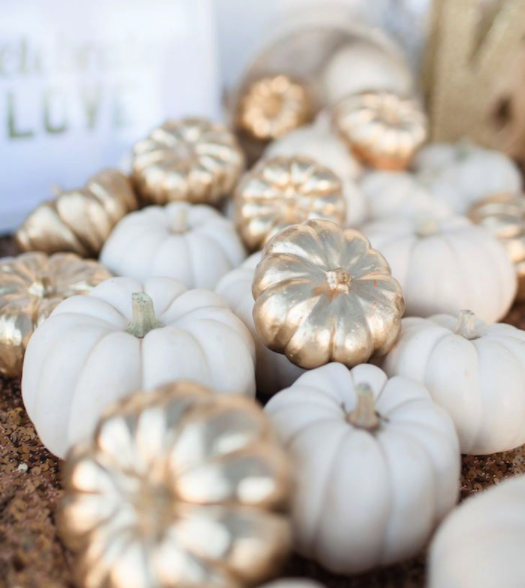 Even though pumpkins are generally associated with October, there's no reason you can't still create a DIY Thanksgiving centerpiece that combines these adorable gourds with the elegance of orchids. Embrace fall colors and play up the natural orange of the pumpkin or consider painting your pumpkins gold and white and pairing them with a stunning white Phalaenopsis for a classier table.
(source: ModWedding.com)
Send a Message of Thanks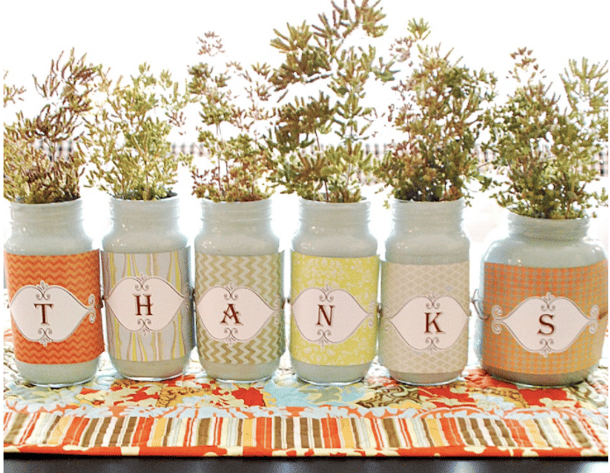 Why not make your orchid centerpiece as on-theme as possible? Incorporate a hand-painted sign that says, "give thanks" in your arrangement or decorate six mini orchid pots to spell out T-H-A-N-K-S, like below. Your guests are bound to appreciate the extra effort and emphasis on the reason for the season.
(source: PositivelySplendid.com)
Make a Pumpkin Vase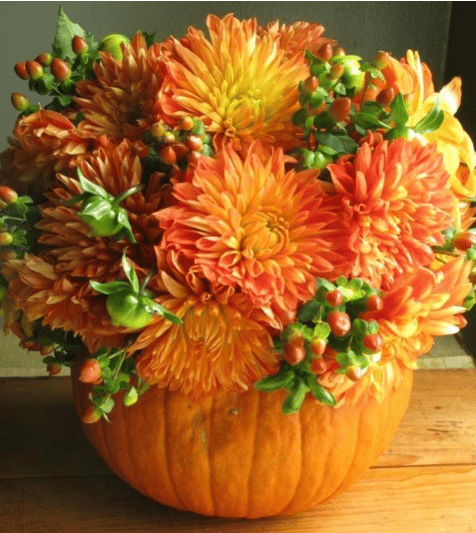 Rather than simply using pumpkins to complement your fall-colored orchids, you can go the extra mile and create a pumpkin vase. Simply hollow out a large pumpkin and place your orchid pot inside. Add a little rustic flare by placing the pumpkin vase on a wood slab and you'll have a DIY Thanksgiving centerpiece fit for a feast.
(source: Sortra.com)
Fill Hurricane Vases with Seasonal Items
The tall elegance of a hurricane vase will pair nicely with the exotic arch of orchid blooms. Find several tall, thin hurricane vases and fill them with various seasonal items — like fresh cranberries, colorful dried corn kernels or pine cones. Intersperse your filled vases with autumn-colored orchids for a Thanksgiving table that is eye-catchingly beautiful.
Luckily, when it comes to creating an orchid centerpiece, you already have one important detail established: it's going to be beautiful.
For more fall décor ideas, download our free fall lookbook.