There are people who are harder to shop for by nature. During a year when we haven't been able to visit them as much, it's even harder to think of gifts for them this holiday season. We've created a gift guide for the people who are hard to buy for in the hopes that it helps you find that special something!
Gifts for people who don't want anything
There's always someone who says they don't want anything for the holidays, which is frustrating for people who love giving gifts! Here are a few practical gifts they can't say no to.
A gift basket with local foodstuff (coffee, pastries, candies, cheeses, etc.)
A plant (see below)
An adjustable laptop table (great for working from home)
An all-in-one phone charger and sanitizer
Gifts for people who are always cold
We all know a freeze baby. Let's warm them up with these cozy gifts.
An electric heat blanket or mattress cover
A cozy hat, gloves and scarf combo
Fuzzy, microwaveable slippers (yes, really!)
Chunky sweater
Hot chocolate or locally roasted coffee beans
Gifts for people who have anxiety
If you're close to someone who struggles with anxiety, a gift that may provide relief is a great way to put their needs first. Consider:
A weighted blanket
Noise-canceling headphones
An essential oil diffuser
Calming herbal tea
Gifts for your postal worker
Yes, your mailman or woman deserves a gift too — especially in 2020 where their job has been on the line. Thank them for diligently delivering the mail day after day with one of these gifts. Make sure you read up on these rules to give these federal workers a gift that won't get them in trouble.
Restaurant gift card (less than $20 value)
Perishable food items
Baked goods or refreshments
A thank you card
The gift everyone loves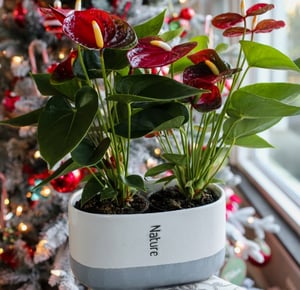 Plants! You cannot go wrong with plants, especially when they're easy to care for — trust us. All our orchids use a simple ice cube watering method that anyone can replicate. Money trees make a great addition to any home office and anthuriums will double as Valentine's Day decor with their long-lasting blooms. Schedule a plant delivery for your special someone today. To make it in time for the holidays, the last day to order is Dec. 22.
Looking for more gift ideas? Just Add Ice was mentioned in these popular gift guides this year. Maybe they'll bring you more holiday inspiration.
CNBC Make It: 15 gift ideas under $50 for the hard-to-please people on your list
People Magazine: Shop 18 of the Best Holiday Gift Ideas for Home Lovers and Hosts — Chosen by People Editors!
Worth: 9 Holiday Gifts Worth's Editorial Director Recommends Splurging on This Year 25+
Food network: Special Gifts for Every Food-Loving Mom You Know - Food Network