Some of you may already be in the rhythm of filling up a cup when watering orchids. But there's an easy life hack that can save you some steps and prove to be the best way for how to water orchids — just add ice!
Not only is it easier, it's also a good way to ensure your plant gets just the right amount of water. Because ice melts slowly, your plant will absorb its water more evenly, rather than having it run through your potting material and pool at the bottom of your pot.
If you haven't used this method or watering orchids before, here's what you need to know.
How to Water Orchids With Ice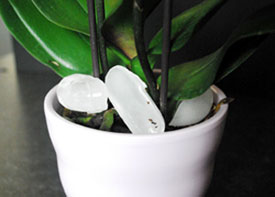 The process for how to water orchids with ice is simple: All you need to do is add three ice cubes to your orchid's pot every week. That's it! This is equivalent to ¼ cups of water. Note that if you have multiple plants in one pot, you should provide each orchid with a serving of three ice cubes.
As the ice cubes melt, they gradually seep into different pockets of the soil. This lets the roots of the orchid slowly absorb the moisture that they need to thrive, helping to promote the plant's longevity.
Watering orchids with ice also reduces the chances of underwatering or overwatering your plants. While both of these factors can trigger health problems, overwatering is recognized as the primary reason for orchid failure. Sticking to a weekly ice irrigation schedule helps to eliminate such causes for concern.
Why We Know Watering Orchids With Ice Works
You may have wondered whether it's OK to use ice on a tropical plant. Will it affect its appearance or shorten its lifespan?
Thanks to a recent research study, we have new evidence that backs up the ice cube watering method. At two different locations, 24 orchids were irrigated with three ice cubes and 24 were irrigated with the equivalent amount of room temperature water. Regardless of the watering treatment method used, both sets of flowers were found to have the same flower longevity and display of life.
Orchids are continuing to grow in popularity. In fact, they are recognized as the top-selling potted plant in the U.S. As they start to appear in more homes, it's important that consumers have an easy way to keep their plants healthy. Today, we've shown you how to water orchids to ensure this: ice!
Keep your orchid healthy and vibrant for many months. Sign up for our free orchid watering calendar!