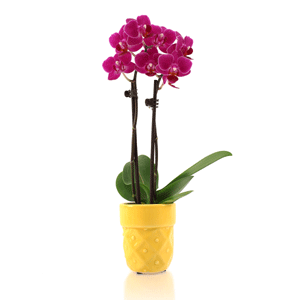 Phalaenopsis orchids are one of the most beautiful indoor flowering plants that can be found in American households. These normally tropical beauties come in a variety of colors. One of the best features of the Phalaenopsis orchid is its ability to produce flowers for an extended period of time.
On average, a Phalaenopsis orchid will flower from one to three months, but it is not uncommon for orchid owners to report that their happy plants are flowering for much longer periods of time.
As such, the Phalaenopsis orchid is the perfect plant for decorating for many different occasions. Here are a few ideas where Phalaenopsis orchids can come in handy:
Dinner Parties
Decorating with pristine Phalaenopsis orchids will allow the hostess to showcase her special decorating talents and tastes. With so many colors available, hostesses can choose to pick one color for each room or mix and match spectacular orchid colors for an eye-catching appeal.
Memorials
A Phalaenopsis orchid's beautiful nature provides a natural calming effect in the rooms they are placed in. Decorating a viewing or memorial service with flowering Phalaenopsis orchids will give an elegant and serene feeling to an otherwise sad occasion.
Baby Showers
The striking look of Phalaenopsis orchids will provide a trendy element to any baby shower. Pink orchids are the perfect choice for a party dedicated to the future baby girl of the family. Or, snowy-white Phalaenopsis orchids decorating the party area will make a sweet backdrop whether the party is for a boy or a girl.
If you're looking for a way to personalize your orchid gift or decoration, download our 5 New Ways to Personalize Your Orchid guide. We love to help spark your creative senses so you can make your Phalaenopsis orchids look dazzling any time of the year!